Prosecutor: 'He lied and 3,000 people died'
Death penalty phase of al Qaeda operative's trial begins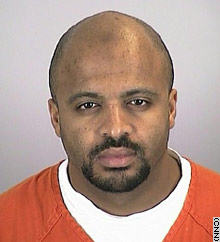 Admitted al Qaeda member Zacarias Moussaoui could be sentenced to death.
ALEXANDRIA, Virginia (CNN) -- Had Zacarias Moussaoui only told the truth after his arrest a month before the terrorist attacks of September 11, 2001, the lives of Americans could have been saved, a prosecutor told jurors as the penalty phase of Moussaoui's trial got under way Monday.
"He lied so the plot could proceed unimpeded," Robert Spencer said in his opening statement. "He lied, and 3,000 people died."
But defense attorney Edward MacMahon said there was no evidence that Moussaoui knew about or participated in the terrorist attacks, or had any contact with the 19 hijackers.
"Moussaoui certainly wasn't sent here to tell a lie," said MacMahon, who called his client a "strange Muslim loner."
He urged jurors to "judge Moussaoui only by what he has done" and not to treat him as a substitute for Osama bin Laden or as an object of revenge, or even a "scapegoat for government officials who made errors before September 11."
Moussaoui, who in the past has interrupted court sessions with repeated outbursts, sat impassively at the defense table on Monday, occasionally stroking his beard.
First witness is FBI agent
The first witness called was Michael Anticev, an FBI counterterrorism agent, who provided a historical overview of al Qaeda.
During his testimony, a video of one of the al Qaeda training camps was played for the jury. As the jihadis on the tape sang slogans such as, "We defend our religion with blood," Moussaoui could be seen moving his lips, singing quietly along in Arabic.
Few, if any, jurors noticed, however, as their eyes remained on the video.
Moussaoui's mother, Aicha el Wafi, told CNN that she hopes he will receive a fair trial.
"I hope that the truth will come out," she said in an interview near the courthouse Sunday. "The only thing that I do hope is that my son will not be used as a scapegoat." (Watch Moussaoui's mother describe her grief -- 2:23)
The jury was seated earlier in the day to hear the sentencing phase of the trial of Moussaoui, the only person charged in the United States with crimes related to the attacks.
Predominantly white, male jury
Attorneys chose seven women and 10 men for the jury of 12, with five alternates. An 18th juror, a woman who appeared distraught, was struck, but it was not clear why. Only one of the 17, a woman, is African-American; the rest are white. One woman is a Sunni Muslim who was born in Iran.
The 12 members of the panel who will decide the case won't be determined until the end of the trial, court spokesman Ed Adams said.
The jury's options are a life sentence without possibility of parole, or the death penalty.
To reach a verdict for execution, the jury must find that Moussaoui intentionally participated in an act contemplating that a life or lives would be lost, and that at least one person died as a result.
Prosecutors contend that Moussaoui's "act" was lying to FBI agents when they arrested him in Minnesota in August 2001, after he aroused suspicion at a flight school.
The lies that Moussaoui admitted in his guilty plea -- that he underwent pilot training for fun and intended to visit New York and Washington as a tourist -- allowed "his al Qaeda 'brothers' to go forward" with the plot, prosecutors say.
The jury will first deliberate only whether people died September 11, 2001, because of Moussaoui's lies. Should it find in favor of the government, the death penalty trial would continue.
U.S.: Deadly lies
"Moussaoui's lies killed the 9/11 victims as surely as if he had been at the controls of the airplanes that day," Spencer told jurors.
If he had told the truth, the prosecutor said, the FBI would have been able to trace 11 of the 19 hijackers in the United States through financial records, phone records and flight school records.
For example, Spencer said, a wire transfer to Moussaoui in August 2001 from Germany originated in the United Arab Emirates. Eight U.S. phone numbers linked to the hijackers called the contact cell phone number behind that transfer, he said.
A two-page list of U.S. flight schools, torn from a German magazine, was left behind in Moussaoui's Oklahoma City apartment, with Arabic notes on it, Spencer added. That list included schools attended by the hijacker pilots.
Had the government taken action to stop the plot, Spencer said, the 11 hijackers would have been put on a no-fly list, and the Federal Aviation Administration would have banned the use of box cutters or short-bladed knives from flights.
"Moussaoui lied so murders could follow," he said. "Hold him accountable for causing these horrible deaths."
MacMahon, however, asked jurors not to look at the facts through "post- 9/11 glasses."
"You cannot assume our government would have acted before 9/11 as it has since," he said.
Defense: 'Useless' to al Qaeda
He called the government's theory "entirely speculative" and painted Moussaoui as someone who was intentionally isolated from the real hijackers, calling him "totally useless" and "a headache" for al Qaeda.
"The government expects you to believe Moussaoui held all the clues to finding these men," he said. "What the government wants you to believe is a dream, and in its own seductive quality, we want it to come true. ... No one should be executed on such flimsy evidence, even an admitted al Qaeda member."
He pointed out that the actual 9/11 hijackers trained in teams, living together and sharing bank accounts, but Moussaoui was alone, and no more pilots were needed by the time he entered flight school.
And as an example of government missteps, he played a tape of U.S. Secretary of State Condoleezza Rice telling the 9/11 commission that, in her view, one of the major mistakes was that airlines did not reinforce cockpit doors.
Moussaoui, 37, faces the jury four and a half years after he was detained in federal custody.
He made another request Monday to be allowed to represent himself, but U.S. District Judge Leonie M. Brinkema denied it. The judge had earlier stripped Moussaoui of the right to act as his own lawyer because of what she said were repetitive, irrelevant and disrespectful motions.
'You're not my lawyer'
During a break, Moussaoui told one of his defense attorneys, "Just so you know, you're not my lawyer. Thanks a lot."
Moussaoui pleaded guilty in April to all six terrorism conspiracy charges against him. He faces the possibility of death for three of those charges -- to commit acts of terrorism transcending national boundaries, to destroy aircraft and to use weapons of mass destruction.
If jurors conclude Moussaoui's lies did result in deaths and the penalty-phase trial continues, prosecutors will present reasons to justify a death sentence, known as "aggravating factors."
Among such factors jurors can consider are whether Moussaoui participated in the deadly conspiracy knowing that he created a "grave risk of death;" whether his actions showed a "reckless disregard for human life"; and whether they were committed in a "heinous, cruel and depraved manner" after "substantial planning and premeditation."
The defense will present "mitigating" factors, to offer a more sympathetic portrayal of the defendant. Defense expert witnesses might say he is mentally ill.
CNN's Phil Hirschkorn, Kelli Arena and Jeanne Meserve contributed to this report.

Home Page

CNN.com gives you the latest stories and video from the around the world, with in-depth coverage of U.S. news, politics, entertainment, health, crime, tech and more.

Home Page

CNN.com gives you the latest stories and video from the around the world, with in-depth coverage of U.S. news, politics, entertainment, health, crime, tech and more.