Moussaoui penalty jury pool down to 86
Dozen to be seated March 6 to determine fate of 9/11 conspirator
From Carol Cratty
CNN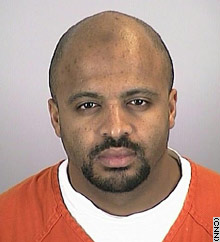 Admitted 9/11 conspirator Zacarias Moussaoui could be sentenced to death.
ALEXANDRIA, Virginia (CNN) -- Eighty-six people qualified Friday as potential jury members who will determine whether September 11 conspirator Zacarias Moussaoui will be executed or spend the rest of his life in prison.
Moussaoui pleaded guilty last year to terrorism conspiracy. He is the only person publicly charged in the United States in connection with the 9/11 terrorist attacks.
The qualified jurors are predominantly white, and there are slightly more men than women.
Twelve of them, along with six alternates, will be chosen March 6.
The original pool of 500 people was drawn from residents of the Washington, D.C., metropolitan area. The pool of 86 includes people who work for the government and others know people who were working at the Pentagon or the World Trade Center when the buildings were attacked on September 11, 2001.
All of the qualified jurors filled out lengthy questionnaires probing their backgrounds, their knowledge of 9/11 and any personal ties to the tragedy.
The jurors are known to the judge and attorneys only by their jury pool numbers. The final panel will remain anonymous.
Two-month trial
The trial is expected to last about two months. Opening statements will be given the afternoon of March 6, after the panel is sworn.
The prosecution and defense teams each will be able to remove 30 prospective jurors without explanation.
Moussaoui, 37, a French citizen born to Moroccan parents, is an admitted member of al Qaeda, the terrorist group responsible for the 9/11 attacks.
He trained at a paramilitary camp in Afghanistan in the late 1990s and contends he was tapped by al Qaeda leader Osama bin Laden to participate in plans to crash hijacked airliners into landmark buildings.
Moussaoui denies any direct role in the 9/11 plot but has said he hoped to pilot a plane into the White House in a second wave of attacks.
The government contends that Moussaoui's lies to FBI agents and immigration officials protected the conspiracy and directly contributed to the murders of nearly 3,000 people in attacks on September 11, 2001.
Moussaoui was detained a month before the attacks after arousing suspicion at a Minnesota flight school.
Moussaoui was indicted in December 2001.
Six conspiracies admitted
Of the six conspiracies described and admitted to, three make him eligible for the death penalty -- to commit acts of terrorism transcending national boundaries, to destroy aircraft, and to use weapons of mass destruction.
Moussaoui also has admitted to conspiring to hijack airplanes, to kill U.S. government employees, and to destroy government property.
The start of jury selection February 6 was marked by outbursts from Moussaoui, and U.S. District Judge Leonie Brinkema briefly barred him from court.
But once the questioning of individual jurors began the following week, Moussaoui was allowed to attend.
He has since been quietly taking notes during the proceedings but also has continued to insult his court-appointed attorneys at the end of each day.
After cursing his lawyers as court adjourned on Friday, Moussaoui exclaimed: "God bless Osama bin Laden, al Qaeda and Moussaoui."
CNN's Phil Hirschkorn in New York contributed to this report.

Home Page

CNN.com gives you the latest stories and video from the around the world, with in-depth coverage of U.S. news, politics, entertainment, health, crime, tech and more.

Home Page

CNN.com gives you the latest stories and video from the around the world, with in-depth coverage of U.S. news, politics, entertainment, health, crime, tech and more.