Jury selection Monday for Moussaoui
Admitted al Qaeda member says he knew nothing of 9/11 plans
By Phil Hirschkorn
CNN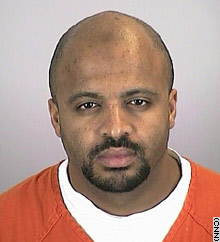 Zacarias Moussaoui admits being an al Qaeda agent but says he knew no specifics of the September 11 plans.
NEW YORK (CNN) -- Even though admitted al Qaeda terrorist Zacarias Moussaoui was behind bars on September 11, 2001, the U.S. government blames him for the 2,973 lives lost in the attacks.
As punishment, the United States wants him executed.
Last April, Moussaoui unexpectedly pleaded guilty to all charges against him but vowed "to fight every inch against the death penalty."
More than four years after he was arraigned in a Virginia federal courthouse about 10 miles from the Pentagon, Moussaoui goes on trial for his life Monday, when jury selection begins. (Watch a 9/11 victim's sister discuss the case -- 2:13)
Jurors will determine whether Moussaoui will die by injection or spend the rest of his life in prison.
Moussaoui, 37, remains the only person criminally charged by the United States in connection with the four September 11 hijackings.
On that day, 19 men hijacked and crashed jetliners into the Pentagon in northern Virginia, the twin towers of the World Trade Center in Lower Manhattan, and in a field in rural western Pennsylvania.
To the government, Moussaoui's culpability for September 11 rests on his evasiveness and denials to FBI agents when he was initially detained in Minnesota in August 2001 for overstaying his visa.
He told them he was a businessman and a tourist interested in flying for fun.
Solicitor-General Paul Clement explained the government's theory of Moussaoui's responsibility at a pretrial hearing: "At the time the defendant was stopped and questioned, had he told the truth, there would have been an opportunity for the deaths not to occur.
"He would have to come clean ... as opposed to the story he gave," Clement told a federal appeals court weighing a dispute in the case. "That would have alerted authorities. They could have increased security.
"Even if he didn't know all the operational details of 9/11 or which were the targets or who was on what planes, there still would have been an opportunity for the government to stop the conspiracy," Clement said.
Raised suspicion at flight school
Moussaoui denied belonging to a terrorist group, though he had trained in an al Qaeda military camp in Afghanistan and pledged loyalty to the group's leader, Osama bin Laden.
Instructors at the Pan Am International Flight Academy in Eagan, Minnesota, became suspicious of Moussaoui in early August 2001 for requesting 747 simulator lessons even though he didn't have a pilot's license.
He also raised eyebrows by paying $6,300 cash for the balance due on his lessons, roughly half the cash he allegedly received in a wire from September 11 plot coordinator Ramzi Binalshibh in Germany.
Long ago, prosecutors backed away from the popular theory that Moussaoui might have been due to be the 20th hijacker, missing from the others on September 11 only because of his arrest a month earlier.
Instead, prosecutors have advanced an alternative theory that Moussaoui admitted in his guilty plea hearing in April -- that he intended to commandeer an airliner targeting the White House in a second wave of attacks.
Hundreds in jury pool
Five hundred prospective jurors from four Virginia counties have been summoned to the Albert V. Bryan courthouse in Alexandria on Monday to fill out questionnaires on their personal history, knowledge of the September 11 attacks and awareness of the Moussaoui case.
By March 6, the list will be trimmed to the 12 jurors and six alternates who will be seated before opening statements that afternoon. Attitudes toward the death penalty will also likely be a focus of questions by lawyers and the judge.
From the prosecution's perspective, "All must be able to impose the death penalty," said former federal prosecutor Andrew McBride, who is not involved in the trial.
"So anyone who's morally opposed to the death penalty or has a religious reason that they could never impose it is out," he said.
"On the other side of the equation, anybody who would automatically impose the death penalty and would turn a deaf ear to the defense's pleas of mitigation ... is also out."
In the first part of the penalty phase, the jury will consider whether Moussaoui intentionally lied to federal agents "contemplating that the life of a person would be taken ... and the victim died as a result."
Defense attorneys frame this question as whether Moussaoui had as many clues about September 11 as did various law enforcement agencies -- the FBI, the CIA, the Defense Department, the National Security Agency -- which the lawyers say failed to share information and "connect the dots."
U.S.: Heinous, cruel, depraved
If the jury affirms the damage of a Moussaoui cover-up, the government will then argue his role in the terror conspiracy "constituted a reckless disregard for human life" and was committed "in an especially heinous, cruel and depraved manner," along with other factors justifying a death sentence.
The government plans to call relatives of about 40 September 11 victims to describe the impact of their losses.
"I think it's very important that they understand the people who were killed," said Debra Burlingame, whose brother Charles was the pilot of the plane that hijackers steered into the Pentagon.
"The 3,000 people who were killed were real people who were mothers and fathers ... and wives and sons and daughters and friends," she added, "and how can they get that feeling by looking at a two-dimensional photograph?"
September 11 families unable to come to the trial will be able to watch closed-circuit broadcasts in federal courthouses in Manhattan and Long Island, New York; Newark, New Jersey; Philadelphia, Pennsylvania; and Boston, Massachusetts.
Moussaoui's mother might testify for the defense, and mental health experts are expected to testify that Moussaoui is schizophrenic. (Full story)
Bin Laden a 'brother in jihad'
The case got bogged down by defense efforts to allow testimony from high level al Qaeda detainees that Moussaoui claimed could clear him -- and by Moussaoui's erratic behavior, which eventually led Judge Leonie Brinkema to stop him from representing himself.
Moussaoui's prior behavior in court likely won't help his cause.
"I pray to Allah ... for the destruction of the United States of America," he said during a 2002 hearing.
In handwritten motions during the 17 months he represented himself, Moussaoui referred to bin Laden as "my brother in jihad," or holy war.
A cooperating witness who drove Moussaoui to Minnesota has said that Moussaoui "expressed a general desire to participate in jihad."
Khalid Shaikh Mohammed, the al Qaeda operations leader captured in Pakistan in March 2003, has told interrogators that Moussaoui was not tapped for September 11.
He and Binalshibh are among a handful of al Qaeda detainees Moussaoui hoped to call as witnesses, a move that Clement successfully argued should be blocked for national security reasons.
Brinkema's own reading of classified interrogation reports led her to conclude that Moussaoui was a "minor participant" in the conspiracy.
If the jury were to impose a life sentence, Moussaoui would spend the rest of his life in the notorious Supermax prison in Florence, Colorado.
The prison is home to other terrorists, including Richard Reid, who admitted trying to blow up an airliner with explosives hidden in his shoes in 2001, and Ramzi Yousef, mastermind of the 1993 World Trade Center bombing.

Home Page

CNN.com gives you the latest stories and video from the around the world, with in-depth coverage of U.S. news, politics, entertainment, health, crime, tech and more.

Home Page

CNN.com gives you the latest stories and video from the around the world, with in-depth coverage of U.S. news, politics, entertainment, health, crime, tech and more.