Lawyers: Moussaoui possibly schizophrenic
Confessed al Qaeda conspirator faces possible death sentence
From Phil Hirschkorn
CNN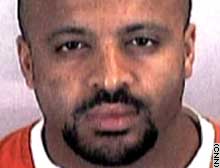 A jury will decide next month whether Zacarias Moussaoui dies by injection or remains jailed for life.
(CNN) -- Defense attorneys said Tuesday they are prepared to present witnesses who will say Zacarias Moussaoui, the only person in the U.S. convicted in connection with the September 11, 2001, terror attacks, may be schizophrenic.
The revelation comes two weeks before jury selection in Moussaoui's sentencing hearing, in which jurors will have to determine whether the 37-year-old will die by injection or spend the rest of his life in prison with no possibility of parole.
Moussaoui, a French citizen born to Moroccan parents, pleaded guilty in April to joining al Qaeda's conspiracy to crash airplanes into landmark buildings. However, he did so without admitting any role in the 9/11 plot and still maintains he had no part in it.
Defense attorneys disclosed that expert witnesses will testify that Moussaoui "suffers from a major thought disorder, most likely schizophrenia." The attorneys added that the sentencing hearing will revolve around Moussaoui's mental health.
The pretrial papers were filed in the U.S. District Court in Alexandria, Virginia, where Judge Leonie Brinkema earlier ruled Moussaoui was mentally fit to stand trial.
Despite Moussaoui's assertion that he played no role in 9/11, the government maintains that his lies to FBI agents after his August 2001 arrest helped perpetuate the conspiracy that resulted in the attack that killed nearly nearly 3,000 people.
Before making its decision, the jury will first hear about any factors the prosecution and defense believe shed light on the crime. From prosecutors, jurors can expect to hear about Moussaoui's indifference to life or about the impact on the victim's families. The defense will likely focus on his mental health and upbringing.
One of the witnesses scheduled to talk about Moussaoui's mental state is Dr. Nancy Andreasen, a profesor of pyschiatry at the University of Iowa. She was until recently the editor of the American Journal of Psychiatry and is a winner of the National Medal of Science.
Andreasen will testify about his possible schizophrenia, though she has never met privately with Moussaoui. She has examined him in court appearances and reviewed reports from a court-appointed psychiatrist who met with him earlier in his incarceration, according to defense papers. She also has examined his rambling writings.
"Schizophrenia falls into the category of severe mental illness," said Dr. Robert deMayo, professor of psychology and associate dean at Pepperdine University. "If one has an active major thought disorder, by definition one is not thinking straight. One is subject to things such as paranoid delusions and hallucinations," such as hearing voices.
Schizophrenia is unrelated to multiple personality disorder, though the two diseases are commonly confused by the general public.
Someone can be insane "and still know what they're doing," said Dr. Mark Rapaport, chairman of the department of psychiatry and mental health at Cedars-Sinai Medical Center in Los Angeles. "I would be less comfortable making the diagnosis without seeing someone face-to-face. But the writings [of Moussaoui] could tell you a lot."
Also, Jan Vogelsang, a social worker familiar with Moussaoui's family history, is expected to talk about the defendant's stunted emotional development, his struggles with racism and relocation in France and problems he encountered after moving to England for college, the papers state.
Moussaoui's mother moved with him and his three siblings to France after separating from their father.
Vogelsang will testify that Moussaoui's father was "a violent alcoholic" who didn't care about his children, according to an outline of the the social worker's testimony. After the family moved to France, Moussaoui lived in and out of orphanages for five years, then left home for good as an adolescent.
The defense filing states that Vogelsang will testify that Moussaoui and his brother raised themselves and that his "emotional and developmental needs were neglected." The social worker is expected to testify that Moussaoui faced racism, cultural changes, relocations and emotional losses on his own and that he was never given a firm and clear foundation spiritually or emotionally.
Moussaoui and his brother "sought out their Islamic roots on their own," the filing states, and Moussaoui in the 1990s was "exposed to the propaganda and enticements of the radical mosques" in London, where he had moved to learn English and study business.
A French official will be called as a defense witness to describe radical Islamic recruitment in the London mosques.
A French sociologist, Farhad Khosrokhaver, author of "Suicide Bombers: Allah's New Martyrs," will testify about Moussaoui's vulnerability to radical fundamentalist Islam, having grown up "with no real connection" to his Muslim faith.
Moussaoui received training at an al Qaeda camp in Afghanistan in 1998.
Moussaoui's defense also plans to call a former FBI agent to testify about airline security and still-classified findings of the 9/11 Commission and reports by the FBI and CIA.
The former agent, Erik Rigler, will discuss how the government was aware of two September 11 hijackers, Khalid al-Mihdar and Nawaf al-Hazmi, in the the United States before the attacks, according to the court documents.
Another defense witness will testify about the actions of the 19 hijackers in relation to Moussaoui's movements, according to the defense papers.
The government has not revealed its expert witness list. Prosecutors have disclosed they plan to call relatives of 45 victims killed in the attacks to describe the impact of their losses.
Moussaoui was arrested in Minnesota four weeks before the September 11, 2001, terror attacks after arousing suspicion at a flight school. He initially was detained for overstaying his visa.

Home Page

CNN.com gives you the latest stories and video from the around the world, with in-depth coverage of U.S. news, politics, entertainment, health, crime, tech and more.

Home Page

CNN.com gives you the latest stories and video from the around the world, with in-depth coverage of U.S. news, politics, entertainment, health, crime, tech and more.