Philly finds a fix for its weight problem
'Health Journeys' has been road to success for former 'fattest' city
By Matt Sloane
CNN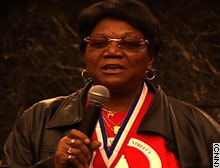 Alice Wright was able to stop using a cane after joining Philadelphia's Health Journeys program.
CNN -- Just as Philadelphia's newly elected Mayor John Street was taking office, he got the bad news. In 2000, his city, cheesesteaks and all, earned the ranking of fattest city in the country on Men's Fitness Magazine's Fittest and Fattest Cities List.
But instead of lamenting this news over a greasy sandwich, the 56-year-old mayor immediately took the task of dropping the pounds -- and the bad ranking -- directly to the people.
"We were probably a whole lot fatter than we needed to be and a whole lot less fit than we needed to be, and so we just sort of took it as a challenge," said Street in a recent interview. His first order of business: appointing fitness guru and childhood friend Gwen Foster to the position of Health and Fitness Czar, the first position of its kind in the city's history.
But what the fledgling mayor couldn't offer was much of a budget for the project, so counting every penny as she went along, Foster managed to develop one of the most successful healthy living programs that CNN saw on our Fit Nation tour.
It's called Health Journeys, and using terminology from the travel industry, the mayor and his queen of fitness sent Philadelphians on virtual "trips" to creatively named cities such as Hon-A-Lose-It, Hawaii; and Las Veggies, Nevada.
It works like this: You go to what the program calls a "travel agency" to get your fitness "passport," which functions like an access card. The passport gets you access to some of the nicest health clubs, dance classes, cooking classes, yoga classes and even massages for 10 weeks; all for $25. Each time you do something healthy, you rack up points.
"People actually earn frequent-activity miles for drinking an 8-ounce glass of water, and a mile for every minute of aerobic activity," says Foster, and those miles add up to some pretty nice prizes at the end.
But the best prize for some is losing the weight. "When I started this journey, I was between 250 and 260 pounds, but I'm 190 pounds now," says Wali Smith, a participant in the program. And, he jokes "it's just good to be going on 47 and be in the best shape I've been in since high school."
Amazingly, weight is not the only thing he and others have lost. Wali is able to leave behind the diabetes medication he was taking.
Another program participant, Alice Wright, was able to ditch her cane.
"I was told I would have that cane for the rest of my life," she says. "I keep it in the car in case I might use it, but you don't see me with that cane anymore."
Noting the dozens of individual success stories she's heard, and the messages from doctors amazed at patients who no longer need diabetes medications, Foster pronounces the program a roaring success for the city. It's also serving as a model for the rest of the country; in 2002, Houston also got a fitness czar, former Mr. Universe Lee Labrada.
"It's far more successful than we could have ever imagined. A conservative estimate is that we've had 30,000 participants," Foster said.
And a successful plan is a welcome light at the end of the tunnel in an age where scientists are as concerned about the obesity epidemic as they are about a possible avian flu outbreak.

Home Page

CNN.com gives you the latest stories and video from the around the world, with in-depth coverage of U.S. news, politics, entertainment, health, crime, tech and more.

Home Page

CNN.com gives you the latest stories and video from the around the world, with in-depth coverage of U.S. news, politics, entertainment, health, crime, tech and more.