Positive steps toward HIV awareness
Group's founder works to dispel stereotypes, encourage testing
By Christy Feig
CNN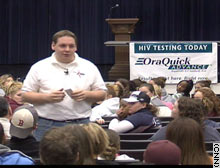 Tom Donohue hopes to dispel myths about HIV and AIDS through his group, Who's Positive?
STATE COLLEGE, Pennsylvania -- When most people learn they are HIV positive it is a very private moment, and for Tom Donohue it was no different, at first.
"I remember just sitting on my bed and crying," he says remembering that day three years ago. "All I knew was that I was HIV positive, and I thought I was going to die."
He was 24 years old. He says, "One moment of passion, of intimacy, of irresponsibility, not only changed my life, but it changed the lives of so many people around me." He remembers telling his roommates.
"I just looked up at them and said, 'Today I found out I'm HIV positive.' And this was a really big turning point for me. It was either that they were going to reject me or they were going to accept me and I remember them getting up and just giving me the biggest hug."
He told his parents and sister, and for a while, that was it.
But everyone who lives publicly with HIV has his or her transforming moment. For Tom it was when he saw the AIDS quilt on display. He was mesmerized by the colorful squares of cloth memorializing the lives of people who already died of AIDS. And standing there by the quilt he was struck with a thought: What would his piece of the quilt say someday?
He wanted his legacy to be that he did everything he could to make a difference, to make people aware of HIV and its consequences. Starting that day Tom announced he was HIV positive to anyone and everyone who would listen.
In many ways, Tom Donohue is an unlikely personality to be a public face of HIV: He's young and struggles to make ends meet. He's not from a well-known family, and doesn't even have his college degree yet, but if he does get it he'll be the first in his family.
If you passed him on the street he wouldn't stick out in your mind. In fact you might not even notice him. He's stocky, young, white, and looks even younger than his 27 years. He dresses like a college kid in a college town. And that's the reason he chose to become so public about his HIV. In his small town of State College, Pennsylvania, he launched a program called Who's Positive? He and his small staff travel to other colleges to try to persuade students to get tested for HIV.
"It's HIV-positive youth reaching out to their peers to say, 'You know what? I'm just like you. I act like you. I look like you. I do the same things as you do. You wouldn't have known it if I hadn't told you I'm HIV positive."
Who's Positive? primarily targets young people -- college students -- and according to the CDC, chances are he'll reach some people who are HIV positive. Half of all new HIV infections are in people under 25.
And Tom is dispelling myths about appearance. Young people often tell him they thought people with HIV looked sick, but in the early years of HIV, even without treatment, people who have the virus look healthy. That thought strikes a chord with Tom. "If I hadn't taken part in routine HIV testing, I could be infecting people right now and not know it. I'm not sick. I have no indications of being HIV positive or sick in any way, so I potentially could be infecting others right now and not know it. "
He's also trying to stretch his reach even further. On Oct. 15 with a tour bus that sleeps 12 he's taking six HIV-positive students and some support staff on a cross-country journey. It's called Operation Get Tested, and they will travel from New York, to Florida and across to California to speak to students at 35 high schools and colleges in 45 days, trying to persuade them to get tested. He plans to complete the tour on Dec. 1, World AIDS Day.
It will be a grueling month and a half but he hopes it will keep more young people from following in his footsteps. It's his part to help there be fewer squares to add to the quilt one day. It's the way he makes a difference.
Christy Feig is a senior producer in the CNN Medical Unit.

Home Page

CNN.com gives you the latest stories and video from the around the world, with in-depth coverage of U.S. news, politics, entertainment, health, crime, tech and more.

Home Page

CNN.com gives you the latest stories and video from the around the world, with in-depth coverage of U.S. news, politics, entertainment, health, crime, tech and more.