Back patient says she got some bad medicine
By Drew Griffin and Sara Lane
CNN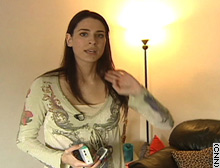 Sarafina Gerling claims her treatment for scoliosis made her condition worse.
LOS ANGELES, California (CNN) -- Sarafina Gerling first heard about Dr. Arthur Copes when she was a high-school sophomore. She had scoliosis, and Copes' Web site advertised a treatment program that would straighten her spine.
After graduation, Gerling moved to Los Angeles, California, excited about the possibility of a career in modeling and acting. She signed up for Copes' program thinking a straighter back would make her more attractive for jobs in entertainment. Copes was based in Louisiana, but had a second office in San Diego, California.
"He had testimonies on [the Web site] from patients ... he had helped that were in much worse degrees than mine, so I figured that he could for sure help me, because I was so active and flexible," Gerling said.
But Copes' advertised cure turned into a nightmare for Gerling.
The program was intense. Gerling said she wore a hard plastic brace 20 hours a day, performed a number of exercises, including one in which she climbed on a stair-stepper with her head attached to the ceiling with an "overhead traction unit," underwent electrical stimulation to her back, and took about 15 nutritional supplements a day.
She said the program cost her more than $16,000 in the six months she was treated.
About three months into the program, Gerling said she thought the air pads inside her brace that were supposed to push her spine into position had been improperly inflated. She said it was painful to wear. After Gerling began bleeding internally, another doctor told her to stop taking the supplements Copes had prescribed, she said.
Gerling started looking into her doctor's credentials, calling schools and employers listed on his resume, and she found Copes wasn't a medical doctor at all.
"There was no record whatsoever from the transcripts saying he ever graduated," she said.
It turns out that the National Scoliosis Foundation had been concerned about Copes for years.
"Approximately 10 to 15 years ago is when we started to get the first communication from patients telling us about some things that were very alarming with Mr. Copes," said Joseph O'Brien, the foundation's president. Copes has since removed some of his purported credentials from his Web site, but his online resume is still full of holes, according to our analysis.
Copes' online resume says he once worked as a doctor's assistant in Gonzales, Louisiana. He fails to mention the doctor was a veterinarian and that Copes helped treat animals, not humans.
He also lists a Ph.D. and a bachelor's degree from Columbia Pacific University, a school that was shut down after Copes attended because of questions about its degree-issuing policies. A California judge said the school "failed to meet various requirements for issuing Ph.D. degrees."
In February, the Louisiana attorney general's office charged Copes with 117 counts of insurance fraud and practicing medicine without a license. Copes has posted bail, and the attorney general's investigation is continuing. Several of Copes' former employees tell CNN he insisted on being called "doctor" and that he acted like one, too.
A registered nurse who says she worked for Copes, and who has asked not to be identified, says, "I saw him marking X-rays. I saw him putting [stimulation] units on patients. ... I saw him talk to them about their curvatures. He gave the impression to patients he was a medical doctor."
Copes told CNN in a statement, "I worked closely with medical doctors designing orthotics to the highest standards, which was by no means impersonating a medical doctor."
He also said every patient "is given a written notice describing the nature of my services that contains the following language: 'An orthotist is not a medical doctor and holds no license from the state of Louisiana to engage in this profession.' Copes' lawyer asked CNN to speak with patients who were satisfied with Copes' program. One of those patients is Angela Smedo, a high school student from Farmington Hills, Michigan.
She said Copes' treatment has almost eliminated what was a hunchback. "All he's done for me is helped me. He's only made my back better. ... All my pain is gone."
O'Brien, president of the scoliosis foundation, says a typical treatment for scoliosis would be to wear a brace that would keep the spinal curve from getting worse, rather than correcting it like the Copes brace claimed to. In some cases, if the scoliosis condition is bad enough, metal rods can be surgically inserted to keep the spine straight.
O'Brien says not all Copes' patients improved as much as Smedo.
"He has taken advantage of people who are very vulnerable, and taken advantage of them for the sake of -- it appears based on his program, and the costs, etc. -- for greed, and not the best care of patients in mind," O'Brien said.
After Copes' treatment, Sarafina Gerling's spinal curves are worse.
When she started the program, the two curves measured 34 and 40 degrees. Today they are 53 and 48 degrees. She claims this is a direct result of Copes' program.
Gerling says the curves not only are painful and have caused diminished lung capacity, but they're also hurting her modeling and acting career.
"I make call back, call back, call back, and then you get to the last point and they would just cast somebody that they didn't have to shoot around a crooked back."
Gerling has given up on other treatment programs. She said she manages her scoliosis now through prayer.

Home Page

CNN.com gives you the latest stories and video from the around the world, with in-depth coverage of U.S. news, politics, entertainment, health, crime, tech and more.

Home Page

CNN.com gives you the latest stories and video from the around the world, with in-depth coverage of U.S. news, politics, entertainment, health, crime, tech and more.