For sale: Dr. Phil's Ferrari and Porsche
TV psychologist will unburden himself of two exotic sports cars. Also, McCartney's vegan Cadillac.
March 6, 2006; Posted: 1:01 p.m. EST (1801 GMT)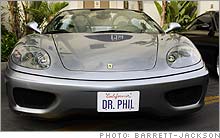 Ferrari 360 Spider owned by Dr. Phil McGraw
NEW YORK (CNNMoney.com) - Perhaps Dr. Phil wants to slow down a little. Two exotic sports cars owned by TV psychologist Dr. Phil McGraw will be sold at a Palm Beach collector car auction.
A 2002 Ferrari 360 Spider and a 2001 Gemballa Porsche Turbo owned by McGraw, better known as "Dr. Phil," will go up for sale at the Barrett-Jackson auction company's Palm Beach Auction which runs from March 30 to April 1.
The Ferrari has titanium paint, chrome wheels and a blue convertible top with matching interior. It is powered by a 395-horsepower V8 engine. (See correction.)
The black Porsche is a 911 Turbo modified by Gemballa, a German company specializing in creating modified versions of Porsche cars. It has a 415-horsepower 6-cylinder engine and upgraded performance suspension.
"I give Dr. Phil kudos for picking a couple of studs for his corral," said Steve Davis, senior executive vice president of the auction company.
The buyer or buyers of the cars will receive a letter of authenticity and proof of McGraw's ownership.
Barrett-Jackson did not provide an estimated selling price for the cars. Davis estimated that the Ferrari will sell for around $150,000, a figure that does not include any additional value it may have due to its celebrity connection. The Porsche will likely sell for around $100,000, he said.
Also going on sale at the auction will be a 2006 Cadillac CTS owned by musician Paul McCartney. The car was specially built by General Motors for McCartney. The car contains no animal products, such as leather, and it has a special "Sport Performance Package," designed to offer a level of performance between a standard Cadillac CTS and the high-performance CTS-V
Proceeds from the sale of McCartney's car will go to Adopt-A-Minefield, an organization that supports minefield clearance, Barrett-Jackson said.
More Autos stories:
Consumer Reports: Prius, Corvette 'Most Satisfying' to own
Correction: In an earlier version of this story we wrote that McGraw had purchased the Ferrari after learning that his television program would be aired nationally. That was based on information provided by Barrett-Jackson. A spokesman for McGraw has since told CNNMoney.com that the car had been purchased prior to that. Return to story.