Best cars for cops
The Michigan State Police Precision Driving Team puts police cars to the test.
January 20, 2006; Posted: 12:38 p.m. EST (1738 GMT)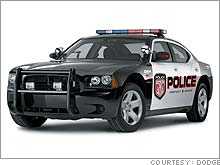 Dodge Charger in police livery
NEW YORK (CNNMoney.com) - If there were a list of the "toughest jobs for cars" being a police car would probably be right up there at the top.
They need big trunks, decent back seat space, huge amounts of front seat space (to allow for computers and radios) and they have to be capable of driving at high speeds for extended periods of time.
Plenty of cars could fill a couple of those needs. But police departments need to find the ones that can do all three at once.
It's not like your local police chief can just go to his neighborhood Chevrolet dealer and take an Impala out for a nice high-speed-pursuit-style test drive, either. That's why the Michigan State Police do their annual cop car round-up.
"Numerous police agencies throughout the U.S. base their criteria on these tests," said Sgt. Keith Wilson with the Michigan State Police Precision Driving Team, the unit that conducts these tests.
The state troopers take examples of potential police cars and test them on race tracks. They measure handling, acceleration, top speed, braking and something called "communications and ergonomics."
Communications and ergonomics is judged based on the comparative comfort of the cars, the readability of gauges and how difficult it is to install equipment like computers and radios.
For 2006, the Michigan Police tested versions of the Ford Crown Victoria Police Interceptor, the Chevrolet Impala, the Dodge Magnum, Dodge Charger and the Chevrolet Tahoe SUV as potential general purpose police vehicles. A smaller-engined version of the Magnum was also tested for suitability as a "support vehicle," a category that otherwise included SUVs.
While they may be losing market share elsewhere, domestic carmakers seem to have a virtual lock on the police car market. Volvo submitted a car for testing a few years ago, Wilson said, and Subaru inquired about doing so. But non-U.S. branded police cars remain a rare sight on American roads.
In the past, some smaller cars -- Ford Mustangs, for example -- had been used by some state police departments as specialized high-speed pursuit vehicles. But bigger, better engines in modern full-sized cars have allowed state troopers to have their speed and trunk space, too.
Wilson refused to choose a specific "best car," saying that individual police departments have their own needs and would have to balance the performance number revealed by the testing against their own requirements and vehicle costs.
Overall, based on the Michigan police's recently published final scores for the 2006 model year, the Dodge Charger ran away with all the performance categories. It fell short, however, in communications and ergonomics.