Consumer Reports: Prius, Corvette 'Most Satisfying' to own
Performance, fuel economy, reliability make owners happiest, but not always all at once.
March 2, 2006; Posted: 1:09 p.m. EST (1809 GMT)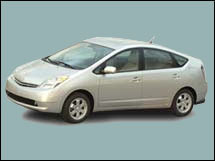 Toyota Prius
NEW YORK (CNNMoney.com) - The Toyota Prius is the car that makes its owners happiest, according to a survey by Consumer Reports, but the Chevrolet Corvette is a close second.
"There's a strange dichotomy in the 'Most Satisfying' cars," pointed out David Champion, senior director of Consumer Reports' Auto Test Department.
Generally, cars that have high performance engines do well, but fuel-efficient hybrid vehicles also seem to have happier owners than owners of similar non-hybrid vehicles.
Ninety-five percent of Prius owners said they would buy one again. Among Corvette owners, 93 percent said they would buy the car again.
The Prius is a gasoline/electric hybrid vehicle that runs partly on electricity generated by its gasoline engine. The Corvette is General Motors' iconic two-seat sports car.
The Ford Mustang GT, another iconic American performance car, claimed third place in owner satisfaction rankings.
Champion credits the Prius's unusual design for much of its appeal. Unlike hybrid versions of otherwise non-hybrid vehicles, the Prius makes a very public statement about the owner.
"Everyone can see you're driving a hybrid," said Champion.
Among owners of American cars, those with powerful performance models were likely to find their vehicles most satisfying.
All of the vehicles from U.S.-based carmakers that appear on Consumer Reports "Most Satisfying" list have powerful V-8 engines and are engineered for speed.
Besides the Mustang and Corvette, they are the Chrysler 300C and the closely-related Dodge Magnum RT.
Otherwise, simple reliability seems to make many owners happy. Cars like the Toyota Avalon receive high scores in reliability, Champion points out, while not being particularly exciting or eye-catching cars.
Consumer Reports calls "Most Satisfying" those vehicles which at least 80 percent of owners say they would definitely purchase again. Japanese models dominate that list.
Of the "Least Satisfying" vehicles, those for which less than half of owners would purchase the same vehicle again, 14 of the 21 are U.S. models while one, the Mazda B-series truck, is a Japanese-branded version of the Ford Ranger.
Related: 2006 Consumer Reports Top Picks
Some of the Most Satisfying vehicles:
Family cars: Toyota Prius, Subaru Legacy GT, Volkswagen Passat TDI, Toyota Camry (4 cyl.), Honda Accord, Honda Accord Hybrid
Large cars: Toyota Avalon, Chrysler 300C
Luxury Cars:Infiniti M35/M45, Lexus GS300/GS430, Lexus LS430, Audi A6 9 (V6)
Wagons: Dodge Magnum (V8), Scion xB
Sports cars: Chevrolet Corvette, Ford Mustang GT, Honda S2000, Mini Cooper S, Audi S4, Mercedes-Benz SLK, Porsche 911, Porsche Boxster
Minivans: Honda Odyssey, Toyota Sienna
Large SUVs: Toyota Land Cruiser; Lexus LX470
Pick-ups: Honda Ridgeline, Toyota Tundra (V8), Toyota Tacoma (V6)