Shelby Mustangs: $20,000 over sticker
GT500 will not be released until later this month, but dealers pre-selling cars on the Internet get high prices.
May 19, 2006; Posted: 10:25 a.m. EDT (1425 GMT)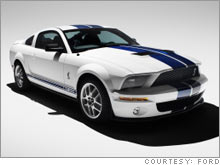 2007 Ford Shelby GT500
NEW YORK (CNNMoney.com) - Ford hasn't yet announced the price of the 2007 Shelby Cobra GT500. But, whatever it is, buyers have already indicated a willingness to pay at least $20,000 more.
The Shelby Cobra GT500 is a version of the popular Ford Mustang equipped with a 500-horsepower supercharged V-8 engine. The original Shelby GT500s, made in the late 1960s by race driver turned sports car maker Carroll Shelby, are now highly coveted collectibles that can sell for hundreds of thousands of dollars. (Far fewer of those cars were built than the approximately 8,000 per year a Ford spokesman says will be made of the new version.)
On eBayMotors.com, one Texas dealership is advertising a 2007 Shelby GT500 with a "Buy it now" price of $99,999. So far, no-one's paid that much, but bids in that auction were already over $65,000 as of Wednesday afternoon.
The first 2007 Shelby GT500s are expected to arrive in dealerships at the end of May with most dealerships getting just one or two to sell.
Ford's sticker price for the car is expected to be about $40,000. Some dealers advertising on eBayMotors are asking for bids in terms of the amount over the sticker price the buyer would agree to pay.
Currently, bidders are offering to pay $20,000 or more over the car's sticker price.
Shortly after the GT500 was unveiled in April, 2005, an interested buyer went into Corey's Northgate Ford in Binghamton, N.Y. with a check for $1,000 for the right to buy a GT500 for sticker price whenever the car became available, said Scott Prancue, the dealership's general manager.
"Thank God I didn't take it," he said. "I would have been fired."
In early May, Prancue's dealership accepted a bid of $13,000 for the right to buy one of the cars at its full sticker price. Had the auction been held today, the price would almost certainly have been higher.
Buyers who are willing to pay $20,000 or more for the car are trying to get the first ones produced as those are always the most desirable, said John Aguire, Ford's brand manager for the GT500. While Ford sets suggested retail prices for its cars, the manufacturer cannot ultimately control the amount dealers will sell them for, he pointed out.
"I'm not surprised at how high demand has been," he said.
Dealers who are auctioning the rights to buy the cars are just trying to get a fair market value for them, said Prancue.
While it's not unusual for certain trendy cars to sell at prices higher than the manufacturer's suggested retail price, the amounts over the sticker price are usually a few thousand dollars at most. There have been cars that have regularly sold for tens of thousands of dollars over their suggested retail price, but those have been exotic cars with prices well over $100,000 to begin with.
Ownership of the the first 2007 Ford Shelby Cobra GT500 available for sale was purchased for $600,000 at the Barrett-Jackson collector car auction in Scottsdale, Ariz. in January. Proceeds from that sale went to charity.
The GT500 benefits from its relationship to the original, highly collectible Shelby cars as well as to the current Mustang, which has turned out to be a hit for Ford in its own right.
Still, actual selling prices will eventually come down to something at least closer to the sticker price, said Jim Hossack, of the automotive industry consulting firm AutoPacific.
"It's a handful of people willing to pay that much," he said.
Gallery: