BMW's M5 kicks it up a notch
The new 5-series sedan lets drivers add another 100 horses with the press of a button.
May 15, 2006; Posted: 4:43 p.m. EDT (2043 GMT)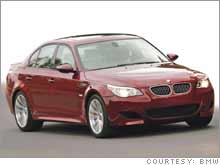 For a speed racer looking to fly beneath the radar, this is the perfect car.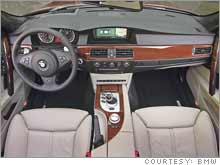 The interior of the M5, like all BMWs, is deftly executed.
(Business 2.0 Magazine) - Lawlessness, or at least the ability to transform a shapeless innocent into a scofflaw, is a seldom-discussed feature of luxury automobiles. So let's discuss it for a moment, shall we?
Most high-end automakers employ geary gangs of mad mechanics to goose their standard offerings, typically taking an already fine sedan and piling on horsepower, thus enabling said ride to exceed two or even three times the speed limit. Mercedes has its AMG line, Audi has the S-Series, and BMW has a posse of souped-up vehicles dubbed the M-Class.
The newest entry in this lineup, an $85,000 Indianapolis-red-metallic M5, was delivered unto me recently on a gray Bay Area day, one on which I happened to need to hustle from San Francisco to Sacramento for a speaking engagement. I was a little worried about making it on time. I shouldn't have been.
For those not up on Bavarian evolution, the M5 is simply BMW's popular 5-Series sedan writ large. Outwardly, the first three generations of M5s looked the same as the lesser 5s. (The only hints of their supercar status were a tiny badge on the trunk and a pair of odd-looking air vents on the side.) Such stealthiness was by design: Though they resembled sedate city runabouts, these pre-2006 M5s had enough juice - 400 horsepower - to blast the doors off almost any sedan on the market.
For a speed racer looking to fly beneath the radar, it was the perfect car. Which, of course, is why BMW decided to change it, most notably by adding a magical button that, when pushed, adds yet another 100 horses to the engine. Simply depress and, voila, you've hit the 500-horsepower threshold, and can now smoke a Ferrari Scaglietti.
The root of all this temptation is a 5.0-liter V-10 evolved from BMW's Formula One vehicles, a power plant that won the highly coveted (seriously) International Engine of the Year award. It is indeed a technological wonder, carved from lightweight alloys and boasting individual throttle butterflies that let the fourth-generation M5 zip around in slightly harnessed mode - allowing for better gas mileage and civilized comportment - before some button-pushing fool unleashes its uberdemons, which can rocket the M5 past 190 mph. I, of course, am one such fool.
San Fran to Sacramento is an 87-mile drive and, by all rights, should take some 90 minutes. I had about an hour, the first five minutes of which I spent puzzling out how the damn car worked. The M5's suspension, gearing, traction, and horsepower can be configured in 279 different ways, a confusing cornucopia that forces the driver to choose between paddle, center stick, or automatic shifting, 400 or 500 horses, comfort or sport ride, and so on.
This wealth of variables is nice, but it doesn't allow for a fast getaway should you need to make one. In fact, when the M5 was adapted for the U.S. market, BMW stripped away the one feature I most desired at that moment: "launch mode," wherein you press the gearshift forward, allow the engine to rev to 7,000 rpm or so, and release the gear knob. Bam.
Absent that handy feature, I set forth the old-fashioned way, by tapping a series of lighted buttons that surround the shifter until I found the proper level of power, comfort, and traction control. (Did I mention it was raining?) That the interior of the M5, like all BMWs, was deftly executed - with restrained use of leathery, metally, and burly surfaces - goes without saying.
Also, rest assured that the company has employed all manner of gizmos to keep you comfortable and safe, including a holograph-style heads-up instrument display, seats that vise-grip you if they sense a hard turn approaching, and brakes that periodically and incrementally apply themselves in wet weather, generating enough heat to dry themselves without affecting your rate of speed.
Speaking of which, I was now averaging 93 miles per hour, and at such speeds, the M5 rides a bit stiffly, which is fine if you adhere to the theory that greater road-feel makes for more engaged, and thus safer, driving. Midway along in my commute, I came upon Vacaville, home to two notorious state prisons and thus a beehive of law enforcement vehicles; in one 10-mile stretch, I counted five troopers.
Clicking down to 400 horses, I hewed to the straight and narrow until safely past the prisons' klieg lights, then thumbed the M button. Instantly the car hit triple digits, zooming along with frightening surety. (I made it to my gig four minutes early.) The return trip was more leisurely, averaging an almost lawful 75. Apparently such speed is permissible, because at one point a trooper pulled alongside, eyeballed the car, and then gave a what-the-hell grin.
As it happens, I would have escaped my time in the M5 scot-free had it not been for an incident on the final day. Having zipped around the city and surrounding burbs, walloping through the car's seven gears in every M-type configuration and just generally being an automotive sociopath, I had parked briefly on a downtown street and managed to return just as the meter ran out. A parking cop was waiting. He pulled his ticket pad from his belt, clicked a pen, and said happily, "Got you."
Whether he was talking to me or the car, I'm still not certain.
2006 BMW M5
Created for: Risk-taking masters of the universe who still crave their creature comforts
Coolest features: Holograph-style heads-up instrument display and a magical button that adds an extra 100 horsepower
What its got: A 5.0-liter V-10, inspired by BMW's Formula One car, that recently won the International Engine of the Year award
What it gets: About 18 mpg in 400-horsepower mode, 10 mpg when kicked up to 500 hp
How much? $85,000 as tested
Photos and details: BMW M5
John Tayman, a contributing writer for Business 2.0, is the author of "The Colony" (www.johntayman.com).