Al-Zarqawi and al Qaeda in Jordan
By Henry Schuster
CNN

Editor's Note: Henry Schuster, a senior producer in CNN's Investigative Unit and author of "Hunting Eric Rudolph," has been covering terrorism for more than a decade. Each week in "Tracking Terror," he reports on people and organizations driving international and domestic terrorism and efforts to combat them.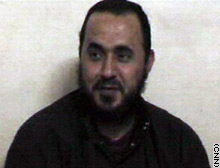 Abu Musab al-Zarqawi's group is claiming responsibility for the bombings in Jordan. He is shown here in an undated photo.
AMMAN, Jordan (CNN) -- The last time I was here, in April 2004, it was to cover a story about how Abu Musab al-Zarqawi was behind a plot to blow up locations around this city, possibly killing tens of thousands.
The alleged plan was audacious. A car and a truck packed with explosives would breach the defenses surrounding the compound housing Jordan's General Intelligence Division and set off a massive explosion.
Not only would the bombs strike at the very heart of Jordan's anti-terrorist capability -- imagine wiping out the CIA and FBI in a single strike -- but the mix of chemicals also might create a toxic cloud, threatening everyone in a two-mile radius.
After it thwarted the alleged plot, Jordanian intelligence, perhaps with some hyperbole, said tens of thousands of people could have been killed by the toxic cloud. The Americans, a bit skeptical, put the number lower, but still credited the Jordanians with breaking up a major plot.
Fast forward to Wednesday night. This time, the plot was classic al Qaeda -- three hotels left smoldering and more than 50 killed by near-simultaneous attacks. This time, the terrorists won.
And this time, at least on the Internet, Abu Musab al-Zarqawi's group, al Qaeda in Iraq, is claiming credit for the bombings.
Al-Zarqawi's war on Jordan
Here's the scary question: How much of what happened in Amman is about Jordan and al-Zarqawi's hatred of the royal family in his native country, and how much of this is about the war in Iraq?
Even before the war in Iraq, al-Zarqawi was targeting Jordan -- and targeting tourists. This was after he spent much of the 1990s in Jordanian prisons charged with subversion.
And, according the Jordanian government, al-Zarqawi was targeting the same Radisson hotel that was bombed this past week. The Jordanians indicted him for a series of planned attacks in the country - also thwarted - that were timed for the millennium.
By that time, al-Zarqawi had fled to Afghanistan. Eventually he would make his way to Iraq, but all the while he was still planning and carrying out attacks in Jordan. Most notably, the Jordanians indicted him for the 2002 murder of American diplomat Laurence Foley, saying he masterminded the assassination plot.
His own defense attorney from the 1990's sees al-Zarqawi as a dangerous man, intent on launching attacks in his own country. Earlier this year he told my colleague Nic Robertson, "I consider Zarqawi a time bomb that could explode in Jordan at any moment. We should not disregard the danger Zarqawi poses here in Jordan."
That was before the hotel attacks. Remember, this is his attorney speaking.
Of course, al-Zarqawi has reached prominence for his bloody and audacious attacks in Iraq. Whether it be the beheading of American hostage Nicholas Berg or a string of suicide bombings, al-Zarqawi has left his bloody mark on the conflict in Iraq, to the point where it can and is sometimes argued that he is a more dangerous terrorist than Osama bin Laden.
Exporting terror
Finding a home base in Iraq has given al-Zarqawi the ability to become the terrorist equivalent of a Category 5 hurricane. Now, that destructive force is again aimed at Jordan.
And if the Internet claim is to be believed, he did it with the same tactics that have served him so effectively in Iraq.
Retired Gen. Ali Shukri used to be the late King Hussein's security adviser. He's been closely watching both al-Zarqawi and the war in Iraq.
"You've got to look at Iraq as a staged terror story. First of all it drew terrorists in, they started fighting the Americans and Iraqi government and now they are exporting terrorism."
Shukri reels off the countries that he feels have been on the receiving end of Iraqi-trained and inspired terrorists in recent months - Saudi Arabia, Egypt and now Jordan.
"Now, this is the worrying part, is Iraq becoming the new training ground for terrorists as Afghanistan was before."
Another side effect
Right now, the Jordanians have to start from ground zero -- the blast sites -- and investigate where the trail leads.
"You have to find out who are these suiciders, whether they were local or came across the border and you got to go into the details of their local support. They must have had local support, a mastermind of this operation, the cells that scanned the places that were bombed, the finance they received, the weapons they received, the local hideouts or safe-houses they used," Shukri says.
Whether or not the trail ultimately leads back to al-Zarqawi and Iraq, Shukri says there is another way in which the conflict has made life harder for Jordanian counterterrorism officials.
Several hundred thousand Iraqis now live in Jordan. Just keeping track of them has proven to be overwhelming for Jordan's General Intelligence Division, says Shukri.
"It puts tremendous load on the intelligence and security system in the country to make sure none of them is being used against the well-being of Jordan."
It looks like at least a few slipped through the net.

Home Page

CNN.com gives you the latest stories and video from the around the world, with in-depth coverage of U.S. news, politics, entertainment, health, crime, tech and more.

Home Page

CNN.com gives you the latest stories and video from the around the world, with in-depth coverage of U.S. news, politics, entertainment, health, crime, tech and more.