Seven Iraqis killed in car bombing in Baquba
Iraqis lament civilian deaths as mission against insurgents nears end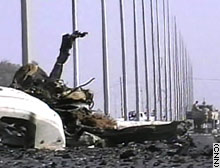 A car bomb exploded Wednesday in Baquba, Iraq, apparently targeting an Iraqi police patrol.
BAGHDAD, Iraq (CNN) -- Seven Iraqis were killed and four others injured Wednesday when a suicide car bomb exploded in Baquba, north of Baghdad.
Four police officers were among the dead in a bombing apparently targeting an Iraqi police patrol in the city, located about 40 miles (64 kilometers) north of the capital. Baquba often has been the scene of sectarian violence and attacks on Iraqi security forces.
In other deadly violence Wednesday, two car bombs killed at least five Iraqi civilians and wounded 25 others, the U.S. military said.
The blasts went off near the Al Shab police station and the next-door Al Sharoofi Mosque in the Adhamiya district.
Neither building was damaged, the military said.
Meanwhile, a driver for an Education Ministry official was gunned down in Baghdad's Shula neighborhood, Iraqi police said.
A Sudanese administrative attaché for the Sudanese Embassy also was shot dead while driving his car Wednesday morning in Baghdad, Iraqi emergency police said.
Earlier Wednesday, a U.S.-led airstrike in western Iraq destroyed what was believed to be an al Qaeda in Iraq terrorist weapons cache in a village near Qaim along the Syrian border, the military said.
Also Wednesday, a U.S. Marine died from wounds he received earlier this week in a roadside bomb attack in Anbar province west of Baghdad, a military statement said.
The number of U.S. troops killed in the Iraq war stands at 2,058.
Operation in western Iraq nears end
Operation Steel Curtain began to wind down in Husayba, a town in the northwestern corner of Anbar province, while Iraqis furiously complained about U.S. airstrikes they said killed at least 24 civilians.
U.S. Marines and Iraqi soldiers pushed eastward Wednesday, battling insurgents and foreign fighters who they say sneak into the country from Syria just miles away.
Col. Stephen Davis, a Marines spokesman, said the worst fighting had been in the southern part of the city. In that section of town, some residents admitted their neighborhoods had been havens for insurgents.
The Iraqis were bitter, though, that the U.S. military used warplanes to drop bombs on homes. They said civilians died in at least two houses that took direct hits.
A CNN crew saw seven bodies in one home and was told another house had 17 deaths from three related families.
According to a U.S. military news release, before the airstrikes, a man told Marines and Iraqi soldiers that insurgents had broken into a home, killed two occupants and held the others hostage while launching attacks against the coalition forces.
"Subsequently, the house was destroyed by coalition aircraft," the statement said. "The soldiers and Marines had no knowledge of the civilians being held hostage in the home at the time of the attack."
The statement also said Marines rescued two people after the bombings.
Marines and the Iraqi army remained in Husayba, conducting "back clearing" -- returning to areas already swept to conduct patrols, execute fresh searches and talk with residents. U.S. troops are still finding roadside bombs as they patrol the town, Davis said.
Other developments
Iraqi Deputy Prime Minister Ahmed Chalabi said Wednesday in Washington that he did not supply false information to the Bush administration about Saddam Hussein having weapons of mass destruction in the run-up to the Iraq war. White House spokesman Scott McClellan defended Chalabi's visit, telling reporters President Bush believes it is important to work closely with the Iraqi government and their leaders to advance democracy. U.S. intelligence officials accused Chalabi in 2004 of leaking top-secret information about American code-breaking capabilities to Iran. He has denied any wrongdoing, but U.S. officials said that an FBI probe is ongoing. (Full story)
Saddam Hussein defense attorney Khalil al-Dulaimi reiterated Wednesday his demand for better protection for his colleagues and insisted the team would not participate in the trial until a solution is found. A source close to Saddam's defense team told CNN that al-Dulaimi sent a letter to the tribunal after the slaying of fellow defense attorney Sadoon al-Janabi last month. Al-Dulaimi repeated his demand after gunmen opened fire Tuesday on a vehicle carrying two other attorneys. Adil Muhammed, who was representing former Iraqi Vice President Taha Yusef Ramadan, was killed, and Thamir Mahmoud was wounded. The proceedings are scheduled to resume November 28.
The U.N. Security Council voted unanimously Tuesday to extend for another year the U.N. authorization of U.S. and other foreign troops in Iraq, which number about 180,000. The present mandate expires December 31. The adoption extends the multinational force's presence until December 31, 2006, but it will be reviewed in six months.
CNN's Arwa Damon and David Ensor contributed to this report.

Home Page

CNN.com gives you the latest stories and video from the around the world, with in-depth coverage of U.S. news, politics, entertainment, health, crime, tech and more.

Home Page

CNN.com gives you the latest stories and video from the around the world, with in-depth coverage of U.S. news, politics, entertainment, health, crime, tech and more.