Rice: 'We need to demand action'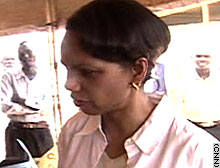 U.S. Secretary of State Condoleezza Rice
WESTERN DARFUR, Sudan (CNN) -- U.S. Secretary of State Condoleezza Rice met privately Thursday with women and children refugees in Sudan's Darfur region.
A conflict that has raged for more than two years has killed an estimated 300,000 people and displaced 2 million people.
CNN's Andrea Koppel spoke with Secretary Rice during her visit of Abu Shook camp.
KOPPEL: You were just welcomed by these children, by so many others. They are looking to you as the representative of the most powerful government in the world to help them, to protect them and to help them get home safely. What can you tell them?
RICE: Well, first of all, that is why I am here. It is so that everyone knows about these children and about the women here. The international community needs to help -- it is helping. I have been so impressed with the nongovernmental organization workers who are here from many, many international NGOs who are literally working day in and day out to try to help these people...
I do think there just has to be concerted international effort, concerted international focus, on helping to improve the security situation here, so that these people can go home.
KOPPEL: OK. But with all due respect, Madame Secretary, a year ago your predecessor Colin Powell stood here and he came to this very camp and spoke with the officials in Khartoum ... and was promised that the violence would end. We know since then there are now perhaps 300,000 Sudanese who have been killed and more than 2 million refugees. Why do you believe them this time?
RICE: Well, it is not a matter of believing them ... I said to the Sudanese government that they had a credibility problem with the international community, because there are promises that have not been kept. But it is a new day in Sudan as well. I just met, as you know, with [Vice President] John Garang. There is a peace agreement between north and south. They are forming a national unity government with people who also lived in terrible conditions at one time in this country. And so we have to support that process while insisting that the unified Sudanese government do everything that it can to improve the situation.
You also notice, Andrea, I welcomed at the airport the Rwandan soldiers who were being airlifted in by NATO. And others are being brought here by the EU. Security has got to improve for these people, and I will talk to the African Union about that.
KOPPEL: Well, specifically, I know you just met with women who've been victimized, raped. I myself spoke with one woman who said she knew of 70 cases in this camp alone of women who left and, she says, were raped by government forces. I want to ask you, not just as top U.S. diplomat, but as a woman and as an African-American woman, what do you say to them?
RICE: Well, the stories are unbelievable, but they are true. And so I said to them that we would try to make it better, that we would go, and we would see what more could be done about the security. It is also the case that I want to be careful, because some of these women spoke in the deepest confidence, as I am sure that they did with you.
But obviously, violence against women is a serious problem, and we have got to have a better response to violence against women. The Sudanese government gave us a white paper on what they could do, what they thought they could do to improve these conditions for women. We are going to take a look at that and we need to demand action.
KOPPEL: I know you've read the briefing papers. I know that you have heard from your deputy what the situation is like here. Does it make a difference you being here?
RICE: Of course, it makes a difference. ... Of course, because you need to see firsthand. That's why I wanted to come here, because I wanted to see firsthand.
KOPPEL: But give us a feeling, tell the American people what it is like.
RICE: I understand at a level that I think you can only understand by being here that it is, of course, a complex issue, because in the long run, these children need to be schooled in their homes. That means that there has to be somehow protection for these villages, the ability for a peace settlement. That's the long term.
But in the short term, we have got to keep everything that we can going to the humanitarian assistance to these people and to improve the security. And, so again, I will go back. I will talk to the AU. We will talk about how we can get more forces here. The Sudanese government said they would accept whatever numbers the AU could provide. I am counting on that because, now that there is a new government in Sudan, they have to realize that the united government of Sudan has a responsibility for this.
And the international community is going to hold them to it.

Home Page

CNN.com gives you the latest stories and video from the around the world, with in-depth coverage of U.S. news, politics, entertainment, health, crime, tech and more.

Home Page

CNN.com gives you the latest stories and video from the around the world, with in-depth coverage of U.S. news, politics, entertainment, health, crime, tech and more.