Katrina investigation focuses on more than one person
By Drew Griffin and Kathleen Johnston
CNN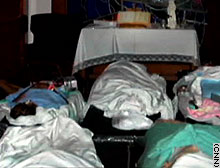 Bodies lie wrapped at Memorial Medical Center in the aftermath of Hurricane Katrina.
NEW ORLEANS, Louisiana (CNN) -- More than one medical professional is under scrutiny as a possible person of interest as Louisiana's attorney general investigates whether hospital workers resorted to euthanasia in the chaotic days after Hurricane Katrina shattered New Orleans, a source familiar with the investigation has told CNN.
CNN first reported in October that staff members at Memorial Medical Center had discussions about euthanizing patients after the hurricane flooded the city on Monday, August 29, cutting off power and stranding hundreds of thousands of residents. Now, for the first time, Louisiana Attorney General Charles Foti has told CNN that allegations of possible euthanasia at Memorial Medical Center are "credible and worth investigating."
Foti would not provide any details of his investigation. However, a source familiar with it, who did not want to be identified publicly, told CNN that more than one person is being scrutinized as a possible person of interest for crimes related to euthanasia that may have been committed there.
CNN has learned the investigation is looking at the possibility that medical personnel at the hospital were afraid of anarchy in the city, feared they could be the next targets of violence as they grew increasingly tired of horrible conditions inside the hospital.
Memorial Hospital had been a storm refuge for up to 2,000 people. Patients, staff and their families rode out the storm inside. But by Thursday, four days after Katrina hit, despair was setting in. The hospital was surrounded by floodwater. There was no power, no water and stifling heat. Food was running low. Nurses were forced to fan patients by hand. And outside the hospital windows, nurses tell CNN they saw looters breaking into a credit union.
The hours, and then days, passed with only the occasional boat or helicopter stopping by to pick up patients. On Thursday, according to people who were there, there was a shift in tone at the hospital.
Angela McManus of New Orleans was at the side of her critically ill mother Wilda on the hospital's seventh floor and sensed the change: Nurses, she says, were now discussing who would be evacuated and, for the first time, who would not.
"These were grown men who were buckling down to their knees, because they were saying they couldn't believe FEMA was making them stay there and watch people dying. They had decided not to evacuate the DNR patients," McManus said, referring to the patients who had signed "do not resuscitate" forms.
At about the same time, some members of the hospital staff were discussing euthanizing patients, medical personnel who were at the scene tell CNN.
Dr. Bryant King, a contract physician for Memorial who was working there when conditions were at their worst, told CNN exclusively that another doctor came to him at 9 a.m. on Thursday, and recounted a conversation that they had had with a hospital administrator. According to King, the doctor said that the administrator suggested patients be put "out of their misery." When King objected, this physician acknowledged his concerns but said that "this other [third] doctor said she'd be willing to do it."
King also noticed a shift in tone that day.
"I realized there were no more fanners, there were no more nurses checking blood sugars or blood pressures they were all pushed out," he said. "And there were people standing at the ramp at the Claire garage, there were people at the morgue chapel: it was kind of being blocked off.
There were people standing at the emergency room doors, and it was being blocked off. It didn't make sense that we were stopping what we had been doing."
King said another hospital administrator asked if he and the two other remaining doctors should pray. King says one of those doctors, Dr. Anna Pou, had a handful of syringes.
"This is on the second floor in the lobby. And across that walkway there is a group of patients and Anna standing there with a handful of syringes talking to patients," he said. "And the words that I heard her say were, 'I'm going to give you something to make you feel better."
"And she had a handful of syringes. That was strange on a lot of levels. Number one, we don't give medications; nurses give medications. We almost never give medications ourselves unless it's something critical. Nobody walks around with a handful of syringes and goes and gives the same thing to each patient. It's not how we do it."
King left the hospital and says he never saw any acts of euthanasia and does not know what was in the syringes that he saw Pou carrying.
Dr. Anna Pou talked to CNN in several phone calls in the days after the hospital evacuation was completed on September 2. She would not comment on possible euthanasia and has since hired an attorney.
Right after evacuating Memorial Hospital, however, she had this to say to a Baton Rouge television station:
"There were some patients there who were critically ill who, regardless of the storm, had the orders of do not resuscitate. In other words, if they died to allow them to die naturally, and to not use heroic methods to resuscitate them."
"We all did everything in our power to give the best treatment that we could to the patients in the hospital to make them comfortable."
Pou's attorney, Rick Simmons, sent this statement to CNN on behalf of his client:
"The physicians and staff responsible for the care of patients, many of whom were gravely ill, faced loss of generator power, the absence of routine medical equipment to sustain life, lack of water and sanitation facilities, extreme heat in excess of one hundred degrees, all occurring in an environment of deteriorating security, apparent social unrest and the absence of governmental authority. Dr. Pou and other medical personnel at Memorial Hospital worked tirelessly for five days to save and evacuate patients, none of whom were abandoned. We feel confident that the facts will reveal heroic efforts by the physicians and the staff in a desperate situation."
As part of its investigation, the Attorney General's Office has sent tissue samples of the bodies recovered to a private lab for testing. Orleans Parish Coroner Frank Minyard confirmed to CNN that one of the tests is to determine if fatal doses of the painkiller morphine were in the bodies of any of the dead.
The question of how many deaths might be involved is still under investigation and no charges have been filed.
Two companies are involved with patient care at Memorial Hospital: Tenet Healthcare, which runs the hospital, and Lifecare of New Orleans, which leases space to care for long-term patients on the seventh floor.
Both companies have declined to be interviewed citing the on-going investigation. But both say their employees acted heroically under difficult conditions, and both say they are cooperating with the attorney general's investigation.

Home Page

CNN.com gives you the latest stories and video from the around the world, with in-depth coverage of U.S. news, politics, entertainment, health, crime, tech and more.

Home Page

CNN.com gives you the latest stories and video from the around the world, with in-depth coverage of U.S. news, politics, entertainment, health, crime, tech and more.