Parish president: FEMA still fumbling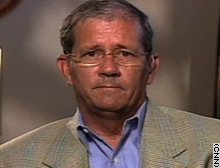 St. Tammany Parish President Kevin Davis says he "can't get a response" from FEMA.
(CNN) -- The president of St. Tammany Parish accused the Federal Emergency Management Agency on Sunday of continuing to mismanage the aftermath of Hurricane Katrina, a charge denied by an agency spokeswoman.
"I met the president personally," Kevin Davis told CNN's "Late Edition."
"I actually drafted a note, and he signed it. It said, 'We are going to help you,'" the parish president said. "I think he was sincere. He hugged me, and I believe in him. There is a disconnect apparently from that point down through the FEMA program."
Davis described as "wonderful" the FEMA people who have been assigned to his parish along the north shore of Lake Pontchartrain. (See video on faith after the flood -- 2:09 )
"It's the bureaucratic part that, once they make the request for me on my behalf, for the past five weeks, I don't get a response," Davis said.
Problems with the federal government's initial response to Katrina helped lead to last month's resignation of FEMA's director, Michael Brown.
Davis cited as an example his request for trailers to house parish residents and emergency workers currently living in shelters and tents.
"I've met with so many FEMA officials outside of my liaison officer; it's just I can't get a response," he complained.
Asked what he had been told by top government officials in the area -- Coast Guard Vice Adm. Thad Allen, FEMA's point man in Louisiana, or Lt. Gen. Russel Honore, the U.S. military commander on the ground -- Davis said, "'We're taking care of that. That's going to happen.'"
But Honore and Allen have been busy with other projects, Davis said, "and we've been going through the channels like we're supposed to."
That process has not worked, Davis said. Even basics such as water, fuel and food were obtained only with difficulty.
"It took us several weeks to get that rolling in here after just hollering and screaming," he said.
FEMA spokeswoman Nicol Andrews said the agency expects to have more than 1,000 housing units in the area up and running shortly, but that Davis himself has been part of the problem, recommending to the agency that his construction company be hired to develop a property to which he has personal ties.
Davis also asked that FEMA pay $7,000 per acre per month for the property -- more than four times its value, FEMA's Andrews said in an e-mailed response.
Since then, Davis dropped his lease rate "to a reasonable monthly amount," and federal officials have nearly finalized a deal to put housing on the site, which can accommodate as many as 1,000 units, she said.
Davis later demanded an apology from FEMA, saying he does not own a construction company, and that he owns no land other than the site of his flooded home. (Full story)
In addition, FEMA has already installed more than 120 mobile homes in the parish, the FEMA spokeswoman added.
Another delay occurred when the mayor of Slidell asked for 400 units and said he had sites to place them, but FEMA discovered that the sites did not have the necessary infrastructure, she said.
FEMA transferred on Saturday another 300 trailers to a staging area within the parish, where they were awaiting sites with the needed infrastructure, she said.
Another 74 private sites have been identified for private residences, and FEMA is working with residents to obtain right-of-entry signatures, she said.
FEMA said it has identified 11 sites in the parish for housing, nine of them industry-related sites for displaced workers and their families, totaling 349 units in all.
In all, FEMA said it expects to have 1,174 units in the parish. Davis did not immediately return a call seeking further comment.
Other developments
The Army Corps of Engineers said Sunday it expects to declare New Orleans dry by Tuesday or Wednesday. Temporary repairs to the levees that failed in Orleans Parish during Hurricane Rita have been repaired, and pumping continues, said Col. Duane Gapinsky. The next step, he said, will be to focus work on failed levees in the city's rural, outlying areas, such as Plaquemines Parish and St. Bernard Parish.
New Orleans' historic St. Louis Cathedral Sunday held its first Mass since Katrina struck August 29. "Faith and church presence and church life are an integral part of the restoration of this community," said Archbishop Alfred Hughes. (Full story)
CNN's Alfredo De Lara contributed to this report.

Home Page

CNN.com gives you the latest stories and video from the around the world, with in-depth coverage of U.S. news, politics, entertainment, health, crime, tech and more.

Home Page

CNN.com gives you the latest stories and video from the around the world, with in-depth coverage of U.S. news, politics, entertainment, health, crime, tech and more.