Pet rescuers race against time
By Peggy Mihelich
CNN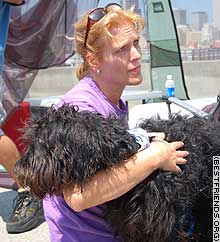 Veterinarian Debbie Rykoff holds a dog rescued from the streets of New Orleans.
To report or pickup a missing pet call the Louisiana State University hotline at (888) 773-6489 or e-mail
Katrina@ldaf.louisiana.gov
Source: Louisiana State University School of Veterinary Medicine
(CNN) -- On the flooded streets of New Orleans you can hear the dogs barking for miles. They are trapped -- in houses, on roofs, tied to porches. They are frightened and hungry.
For the pets left behind after Hurricane Katrina, relief is on the way, but it's a race against time.
"It's a dire situation," said Melissa Seide Rubin of the Humane Society of the United States.
Rescue workers are worried most about pets locked inside homes and whose food and water supply may have run out. For them, rescue is their only chance of survival.
"It's one at a time, and it's fairly slow work," said Michael Mountain, president and CEO of Best Friends Animal Society, one of the first animal organizations allowed into the city to rescue pets.
"They are certainly all frightened," Mountain said. "The most difficult ones to work with are the cats who hide under furniture. The dogs tend to be easier. You can put out a treat for them, you can generally bring them to you."
With federal agencies and law enforcement agencies overwhelmed with rescuing people, it has been left to animal welfare groups and civilians to help stranded pets.
"We weren't allowed into the really bad areas until just recently, so now we are playing catch-up," said Rubin, the Humane Society's vice president of field and disaster services.
The American Society for the Protection of Animals, the Humane Society, the Louisiana SPCA, and the Texas SPCA are involved in the operation.
The Humane Society has 200 people in the field to handle the more than 2,000 requests it has received from people who have called a hotline or sent information.
The rescues are being conducted mostly by boat. Teams using inflatable rafts locate stranded pets and take them to a drop-off point, where they can be transported to a shelter.
Since Tuesday the Humane Society has rescued 90 dogs and 34 cats. Mountain estimates his group has rescued between 800 and 900 animals since entering the city on August 30.
As soon as the pet arrives at a shelter it is photographed and checked for ID tags. The health of each pet is evaluated, and fluids and medical treatment is administered as needed.
The information is put into a database that pet owners and rescue groups are feeding information into and that the Louisiana State Veterinary Association is maintaining. Efforts are then made to contact the owner of the pet. Unclaimed pets will be sent to area shelters and made available for adoption.
Jo Sullivan, senior vice-president of communications for the ASPCA, said most of the rescued pets are in good health but are scared.
"We haven't seen anything worse than some minor abrasions, and mild dehydration and, of course, some dysentery from unclean water," she said.
At the Lamar Dixon Center in Gonzalez, Louisiana, 50 miles north of New Orleans, hundreds of people come every day looking for their pets.
For one man, forced to leave his pet when he evacuated, there's a sweet reunion with his dog, Miller.
"Daddy came and got you, didn't he," the man said to his dog as he gave Miller a rub on the base of his neck.
For the rescuers and volunteers seeing a pet reunited with its owner fuels their effort.
"When people have lost everything and if you can reunite them with their pets, it makes such a difference in their lives," Rubin said.
Not without my dog
In the desperate race to pull human survivors out of the flood, rescuers haven't been able to accommodate pets. Some people have refused to leave without them.
"When this thing happened, everybody was shooting at everybody. The only thing I trusted was my dogs. I'm not going to leave them," said Robert, a New Orleans man who would not give his last name.
"The government has to understand that people are not going to leave their pets," Rubin said.
"When someone won't leave their pet we try and be there at the same time so we can take it for them, so that they can be assured that they can be reunited at some point," Rubin said.
On Tuesday afternoon a man needing medical assistance held up a "fleet of ambulances" on the Interstate 10 exit to Causeway Boulevard because he refused to leave his dog, Mountain, of Best Friends, said. A nurse in the caravan called Best Friends to see if the group could help.
"By the time we got there, they had to wrench the dog from him," Mountain said. "They had a few others [dogs] as well. They tied up three of them and took off. We had the description and managed to get hold of all three."
While, many national organizations were held up at staging areas just outside the city, Best Friends had boats in the neighborhoods rescuing pets. On Saturday, with the permission of the Jefferson Parish sheriff, Best Friends workers "broke in" to a pet store and saved about 140 pets -- from hamsters to snakes to tarantulas to birds -- Mountain said.
Donations and help
Organizations involved in the rescue have gotten support in the form of donations of money, pet food and medical supplies.
Want to help? Buy a Humane Society dog "CauseCollar." The blue and brown collar is fashioned after popular "message" bracelets for people. The slogan on the collar reads "Be Kind" and costs $3.

Source: Humane Society of the United States
"We've got stuff that was shipped in from well-wishers from all over the country," Mountain said. "Yesterday we got a pile of blankets that ran 15 feet high."
Nestle Purina PetCare shipped more than 33 tons of dog and cat food to the affected areas, spokesman Keith Schopp said.
"We are actually right now putting another donation together that will be coordinated through Louisiana State University," he said.
With supply needs met, agencies like the ASPCA and the Humane Society are turning their attention to the long-term needs of housing the displaced animals. Many shelters in the New Orleans area were destroyed by the hurricane or the flood that followed. They will need rebuilding.
"The best thing that people can do right now is donate dollars and let us buy what we need as we need it, Sullivan said.
CNN's Adaora Udoji and Christane Amanpour contributed to this report.

Home Page

CNN.com gives you the latest stories and video from the around the world, with in-depth coverage of U.S. news, politics, entertainment, health, crime, tech and more.

Home Page

CNN.com gives you the latest stories and video from the around the world, with in-depth coverage of U.S. news, politics, entertainment, health, crime, tech and more.