Qatar offers $100m to relief fund
Programming Note: Give to hurricane victims, and watch "Larry King Live" Saturday, 8 p.m. ET, replays midnight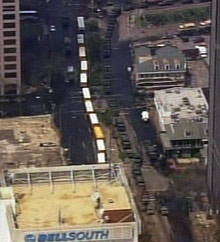 A convoy of buses and military vehicles deliver aid to New Orleans.
(CNN) -- The oil-rich nation of Qatar has offered the United States $100 million to assist in the humanitarian crisis triggered by Hurricane Katrina.
The state-run Qatar News Agency said Saturday that Qatar's emir, Sheikh Hamad bin Khalifa al-Thani, decided to contribute that amount for relief "and humanitarian supplies for the victims of this disaster."
The U.S. government has received offers of support from dozens of nations across the globe.
As of Friday, the White House had not accepted any offers, but Secretary of State Condoleezza Rice said the State Department was "working very closely with the Department of Homeland Security to match up what is available with what is needed."
There was no immediate word whether the United States would take Qatar up on its offer.
Other offers of aid and assistance have come in from countries around the world -- including from India, Sri Lanka, Thailand and Indonesia, the four countries hardest-hit by the December 26 Asian tsunami.
The State Department said offers of help had been received from more than 50 countries, including:
Australia, Austria, Armenia, Azerbaijan, Bahamas, Belgium, Canada, China, Columbia, Cuba, Dominica, Dominican Republic, Ecuador, El Salvador, France, Germany, Guatemala, Greece, Guyana, Honduras, Hungary, Iceland, India, Indonesia, Israel, Italy, Jamaica, Japan, Jordan, Lithuania, Luxembourg, Mexico, the Netherlands, New Zealand, Norway, Paraguay, Philippines, Portugal, South Korea, Russia, Saudi Arabia, Singapore, Slovakia, Spain, Sri Lanka, Switzerland, Sweden, Taiwan, Thailand, Turkey, United Kingdom, the United Arab Emirates, and Venezuela.
International organizations also offered help ranging from medical teams to tents to cash donations. They include NATO, the Organization of American States, the U.N. High Commissioner for Refugees, and the World Health Organization.
The United Nations has offered to help coordinate international relief.
State Department officials have not yet said if any of these offers -- beyond specific offers of cash to humanitarian organization -- have been accepted.
Following is a list of some of the aid offered by governments.
-- Sri Lanka has offered what it called a "token contribution" of $25,000 through the American Red Cross.
-- Mexico has offered $1 million and is sending 15 truckloads of water, food and medical supplies via Texas. The Mexican navy has offered to send two ships, two helicopters and 15 amphibious vehicles.
-- Australia is giving A$10 million ($7.6 million), most of it to the American Red Cross.
-- China has offered $5 million.
-- India is making a $5 million donation to the American Red Cross, Ambassador Ronen Sen said Saturday. In addition, Sen said India was willing to donate essential medicines to the relief effort, noting that India has the largest number of Food and Drug Administration-recognized pharmaceutical companies outside the United States.
-- -- Germany has offered a wide range of assistance including evacuation by air, medical services, transportation services, water treatment capabilities, assistance in searching for victims, vaccination teams and supplies, and emergency shelter. Germany has also said it is ready and willing to "dip into its own emergency oil reserves" to release some 2 million barrels a day for 30 days.
-- France has offered mobile help from the French Antilles, which is relatively close to the affected regions, including a civil defense detachment of 35 people, tents, camp beds, generators, motor pumps, water treatment units and emergency kits, two CASA cargo aircraft, a ship (Batral Francis Garnier) and the frigate Ventose with its Panther helicopter, and a hurricane disaster unit (20 soldiers and 900 kg of specialized supplies and medical support).
-- France has also offered assistance from the French mainland including: one or two C-135 planes, one A-310 aircraft , and four C-160 Transalls, an airborne emergency unit. In addition, the NGO Telecoms Sans Frontieres, which specializes in restoring phone lines and Internet service in disasters, is ready to send a team of experts and equipment. Veolia Environment, which has facilities in Louisiana, has offered to make its local water management resources available to the American authorities or the Red Cross. It can also quickly send in a team of hydraulic experts.
-- Japan has offered to provide $200,000 to the American Red Cross. The government of Japan will identify needs in the affected regions through the U.S. government and, upon request, is ready to provide necessary and available emergency assistance supply amounting to up to $300,000 worth of items such as tents, blankets, power generators, portable water tanks and more from a supply depot maintained by the Japanese government in Florida.
-- Cuba's President Fidel Castro said on Friday his nation was ready to send 1,100 doctors and 26 tons of medicine and equipment.
Asia
AUSTRALIA: "We're going to provide A$10 million ($7.6 million) and the bulk of that money, if not all of it, will go to the American Red Cross," said Australian Foreign Minister Alexander Downer. The Australian government said there may be up to 24 Australians trapped in Louisiana in the aftermath of Katrina.
CHINA: China offered $5 million in aid for victims of Hurricane Katrina which devastated the Gulf Coast ahead of President Hu Jintao's U.S. visit. If needed, the Chinese government is also prepared to send rescue workers, including medical experts, officials said.
JAPAN: Will provide $200,000 to the American Red Cross to assist victims of Hurricane Katrina, the Japanese Foreign Ministry said on Friday. Japan will also identify needs in affected regions via the U.S. government and will provide up to $300,000 in emergency supplies such as tents, blankets and power generators if it receives requests for such assistance, the ministry said.
SINGAPORE: The Singapore Armed Forces, responding to requests by the United States Texas Army National Guard, has sent three Chinook helicopters to Fort Polk, Louisiana, to help in relief efforts. The government said the Chinooks will help to ferry supplies and undertake airlift missions.
SOUTH KOREA: Has pledged aid and is waiting for a U.S. response, a government official said. "We have sent our intention to offer recovery aid," a Foreign Ministry official said on Friday.
SRI LANKA: Will donate $25,000 to the American Red Cross.
TAIWAN: Has pledged more than $3 million to the relief effort.
Americas
CANADA: Offered to help in any way it can and the navy is preparing a ship full of emergency disaster relief supplies to be sent when a request comes.
CUBA: Cuban President Fidel Castro offered to fly 1,100 doctors to Houston with 26 tonnes of medicine to treat disaster victims.
MEXICO: The country is sending 15 truckloads of water, food and medical supplies via Texas and the Mexican navy has offered to send two ships, two helicopters and 15 amphibious vehicles.
VENEZUELA: President Hugo Chavez, a vocal critic of the United States, offered to send cheap fuel, humanitarian aid and relief workers to the disaster area.
Europe
EUROPEAN UNION: EU countries are ready to give the United States oil if it requests help, EU foreign policy chief Javier Solana said on Friday. But British Foreign Secretary Jack Straw said this was not what the EU had in mind when it discussed how to help.
FRANCE: Prime Minister Dominique de Villepin said France was ready to offer support, telling TF1 television: "We have rescue teams based in the Caribbean and we are naturally ready to provide aid to the Americans, and that is what we have told them."
GERMANY: Has offered mobile units to provide clean water, military hospital facilities and medical aid.
ITALY: Has offered to "immediately" send aid and evacuation specialists, Italy's civil protection unit said. Authorities have prepared two military transport planes to fly amphibious vessels, pumps, generators, tents and personnel to New Orleans and other areas. They were awaiting word from U.S. officials, the unit said.
NETHERLANDS: Will provide teams for inspecting dykes and for identifying victims if there is a formal request from the United States. It will also send a frigate from Curacao to New Orleans shortly to provide emergency assistance, the government said.
RUSSIA: Has offered to help with rescue efforts, but is still awaiting a reply from Washington. "Above all with heavy transport planes, which can be loaded with helicopters and generators -- as there is no electricity in the area of the catastrophe," Defense Minister Sergei Ivanov said.
SPAIN: Expects to receive a formal request to release gasoline stocks to the United States and is prepared to grant it, an Industry Ministry spokesman said.
SWEDEN: The Rescue Authority said it was on stand-by to supply water purifying equipment, healthcare supplies and emergency shelters if needed.
UNITED KINGDOM: British Prime Minister Tony Blair has said Britain stands ready to help the United States in whatever way it can.
Middle East
SAUDI ARABIA - Saudi Refining, a Houston-based subsidiary of state oil firm Saudi Aramco, will donate $5 million to the American Red Cross to support relief efforts for victims of Hurricane Katrina.
CNN State Department Correspondent Andrea Koppel contributed to this report

Home Page

CNN.com gives you the latest stories and video from the around the world, with in-depth coverage of U.S. news, politics, entertainment, health, crime, tech and more.

Home Page

CNN.com gives you the latest stories and video from the around the world, with in-depth coverage of U.S. news, politics, entertainment, health, crime, tech and more.