Senate ignores veto threat in limiting detainee treatment
Measure added to Pentagon spending bill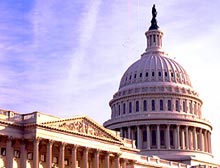 WASHINGTON (CNN) -- Setting up a possible veto showdown with the White House, the Senate voted overwhelmingly for an amendment to a Pentagon spending bill that sets standards for the treatment of prisoners in U.S. military custody.
The measure, sponsored by Sen. John McCain, R-Arizona, would require American troops to follow interrogation standards set in the Army Field Manual and bar "cruel, inhuman and degrading treatment" of prisoners in U.S. custody.
On Wednesday night, senators voted 90-9 to include the provision to the $440 billion Defense Department spending bill now wending its way through Congress.
Earlier, White House spokesman Scott McClellan said President Bush would likely veto the defense spending bill if McCain's language were included, calling the amendment "unnecessary and duplicative."
"If it's presented, then there would be a recommendation of a veto, I believe," McClellan said.
McClellan said existing law already prohibits the mistreatment of prisoners in American custody, and the amendment "would limit the president's ability as commander-in-chief to effectively carry out the war on terrorism."
If Bush does veto the bill, it would be his first veto during nearly five years in office.
Arguing for his amendment, McCain, a former Navy pilot who spent more than five years in a North Vietnamese prison camp, said "our troops are not served by ambiguity."
"We demanded intelligence without ever clearly telling our troops what was permitted and what was forbidden. And then, when things went wrong, we blamed them and we punished them. We have to do better than that," he said.
McCain said an officer in the 82nd Airborne Division, Capt. Ian Fishback, urged his office to push for clear guidelines for the treatment of prisoners after unsuccessfully attempting to get answers from his superiors for 17 months.
McCain, a former GOP presidential contender, said he was willing to consider "technical changes" in the amendment -- "as long as those changes are technical, truly." He warned that his proposal could be removed when senators and House members try to reconcile their versions of the defense bill, and urged supporters to keep up the pressure on lawmakers.
"The image of the United States was very badly harmed by the pictures of prisoner abuse. We have to send a message to the world that we will not ever allow such kind of treatment to be repeated," he said.
In a letter to McCain, published last week in The Washington Post, Fishback stated that he and troops under his command witnessed "death threats, beatings, broken bones, murder, exposure to elements, extreme forced physical exertion, hostage-taking, stripping, sleep deprivation and degrading treatment" of prisoners in both Afghanistan and Iraq.
Allegations that Americans have tortured prisoners have dogged the Bush administration since April 2004, when graphic photographs of Army reservists mistreating prisoners at the notorious Abu Ghraib prison outside Baghdad became public. Nine low-ranking soldiers were convicted or pleaded guilty in the Abu Ghraib scandal and their commander was demoted, but Pentagon investigators cleared higher-ranking officers of any wrongdoing.
McCain said Wednesday that intelligence is needed to fight terrorism, but "the intelligence we collect must be reliable and acquired humanely, under clear standards understood by all our fighting men and women." Torturing prisoners not only yields unreliable answers, but also endangers captured U.S. troops and allows "the cruel actions of a few to darken the reputation of our country in the eyes of millions," he said.
"The enemy we fight has no respect for human life or human rights. They don't deserve our sympathy," he said. "But this isn't about who they are. This is about who we are. These are the values that distinguish us from our enemies."
He bristled at remarks by his Republican colleague, Sen. Jeff Sessions of Alabama, questioning Fishback's account. Sessions also called it "sort of odd" that Fishback refused to disclose the names of sergeants in his unit who reported similar conduct.
"Captain Fishback is a noble, brave young American," McCain said. "He does not deserve to be disparaged on the floor of this Senate by any senator, and the senator from Alabama owes him an abject and deep apology."
Sessions said the McCain amendment was unnecessary, since those responsible for the abuse of prisoners at Abu Ghraib "are being held to account." He said he did not believe he questioned Fishback's integrity, and he said senators who questioned whether abuses were sanctioned by top officers or the Pentagon should consider an apology.
"To suggest to the world that we have as systemic pattern of abuse in the military is not true," he said.

Home Page

CNN.com gives you the latest stories and video from the around the world, with in-depth coverage of U.S. news, politics, entertainment, health, crime, tech and more.

Home Page

CNN.com gives you the latest stories and video from the around the world, with in-depth coverage of U.S. news, politics, entertainment, health, crime, tech and more.