Cheney: Iraq will be 'enormous success story'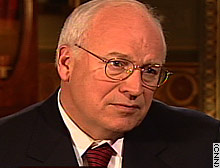 Cheney: "We will succeed in Iraq, just like we did in Afghanistan."
WASHINGTON (CNN) -- Vice President Dick Cheney on Thursday defended his recent comment that the Iraqi insurgency was in its "last throes," insisting that progress being made in setting up a new Iraqi government and establishing democracy there will indeed end the violence -- eventually.
However, in an exclusive interview with CNN's Wolf Blitzer, Cheney said he thinks there still will be "a lot of bloodshed" in the coming months, as the insurgents try to stop the move toward democracy in Iraq.
"If you look at what the dictionary says about throes, it can still be a violent period, the throes of a revolution," he said. "The point would be that the conflict will be intense, but it's intense because the terrorists understand that if we're successful at accomplishing our objective -- standing up a democracy in Iraq -- that that's a huge defeat for them.
"We will succeed in Iraq, just like we did in Afghanistan. We will stand up a new government under an Iraqi-drafted constitution. We will defeat that insurgency, and, in fact, it will be an enormous success story."
A recent surge in fighting has raised fears that an Iraq-style quagmire is developing in Afghanistan just months ahead of key legislative elections.
American fighter planes bombarded a southern Afghanistan rebel hide-out with missiles and bombs Tuesday, killing up to 76 insurgents in one of the deadliest single clashes since the Taliban's ouster in 2001.
At least 12 Afghan police and soldiers also died in the fighting and five U.S. troops were wounded.
Cheney also said Bush administration officials "don't pay a lot of attention" to polls showing declining public support among Americans for the Iraq war.
"The last thing you want to do is to read the latest poll and then base policy on that," he said. "Presidents are generally ineffective if they spend all their time reading the polls and trying to make policy accordingly.
Gitmo detainees 'living in the tropics'
"We are doing what we believe is right. We're convinced it's right. We're convinced that in fact we'll achieve our objectives."
The vice president also told Blitzer that "we've got a pretty good idea of the general area" where al Qaeda mastermind Osama bin Laden is hiding, but he said, "I don't have the street address."
Asked to identify the general area, Cheney demurred, saying he wouldn't talk about intelligence matters. Pressed on when bin Laden might be captured, he said, "What, do you expect me to say: Three weeks from next Tuesday?"
"I'm convinced eventually we'll get him," he said.
Cheney also rejected calls for closing the detention facility for terror suspects at Guantanamo Bay, Cuba, saying the inmates there "are serious, deadly threats" who will "go back to trying to kill Americans" if they are released.
He also defended the treatment of prisoners by the U.S. military at Guantanamo, telling Blitzer, "There isn't any other nation in the world that would treat people who were determined to kill Americans the way we're treating these people."
"They're living in the tropics. They're well fed. They've got everything they could possibly want," the vice president said.
Cheney compared the current situation in Iraq to the last months of World War II, when Germans launched a desperate offensive in the Battle of the Bulge and the Japanese offered stiff resistance on Okinawa.
He said the insurgents will "do everything they can to disrupt" the process of building an Iraqi government, "but I think we're strong enough to defeat them."
The vice president declined to put a timeline on when American forces might be able to leave Iraq. But asked about an assessment by Iraqi President Jalal Talabani that the United States might begin significantly reducing troop levels in 2006, Cheney said, "I hope he's correct."
"There will probably be a continued U.S. presence there for some considerable period of time, because there are some things we do they can't do -- for example, air support, some of our intelligence, communications and logistics capabilities," he said. "But I think the bulk of the effort will increasingly be taken on by Iraqi forces."
Cheney also said he thought Sen. Chuck Hagel of Nebraska, a fellow Republican, was "wrong" when he told U.S. News and World Report the White House was "disconnected from reality" about how the situation was deteriorating in Iraq.
"[Washington has] got a lot of people in it who were armchair quarterbacks or who like to comment on the passing scene," he said. "But those who have predicted the demise of our efforts since 9/11 -- as we have fought the war on terror, as we have liberated 50 million people in Iraq and Afghanistan -- did not know what they were talking about."
Cheney said he had not read the so-called "Downing Street memo," a document written by a British official in the fall of 2002 suggesting that President Bush had already decided to remove Iraqi dictator Saddam Hussein, and that U.S. officials were over hyping intelligence about Iraq's weapons of mass destruction to build support for the policy.
However, the vice president said the premise of the memo -- that a decision to go to war had been made months before the March 2003 invasion -- was "wrong."
"Remember what happened after the supposed memo was written. We went to the United Nations. We got a unanimous vote out of the Security Council for a resolution calling on Saddam Hussein to come clean," he said.
"The president of the United States took advantage of every possibility to try to resolve this without having to use military force. It wasn't possible in this case."

Home Page

CNN.com gives you the latest stories and video from the around the world, with in-depth coverage of U.S. news, politics, entertainment, health, crime, tech and more.

Home Page

CNN.com gives you the latest stories and video from the around the world, with in-depth coverage of U.S. news, politics, entertainment, health, crime, tech and more.