Aruba police quiz judge again
Jurist's wife visits son held in Alabama teen's disappearance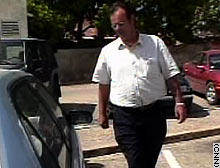 Paul Van Der Sloot leaves the police station Sunday after being questioned in Oranjestad.
ORANJESTAD, Aruba (CNN) -- Police questioned an Aruba judge Sunday for the second day in a row in connection with the disappearance of Alabama teen Natalee Holloway.
Police Commissioner Jan Van Der Straten said police questioned Judge Paul Van Der Sloot while his wife, Anita, visited their son, 17-year-old Joran, who is being held in connection with the case.
Van Der Straten dismissed as "completely false" media reports that police also had interrogated the judge's wife.
Joran Van Der Sloot is one of three people last reported seen with Holloway before she disappeared in the early hours of May 30.
The judge also was questioned Saturday and remained in the police station for about five hours. Asked Saturday whether the father was being interviewed as a suspect or a witness, a source close to the investigation said "the latter."
Also jailed in the case are brothers Deepak Kalpoe, 21, and Satish Kalpoe, 18, and a man identified by a family member as Steve Croes, a 26-year-old disc jockey for a popular party boat. He was arrested Friday. (Full story)
The commissioner said the suspects were being held in separate facilities in the capital to ensure they cannot communicate with one another.
The police commissioner said Saturday the arrest of Croes came after one of the three youths named him. The party boat he works aboard docks about 300 meters, or about 1,000 feet, from the Holiday Inn where Holloway was staying.
The 18-year-old honors student from the affluent Birmingham suburb of Mountain Brook disappeared early May 30 after she left a nightclub with Van Der Sloot and the Kalpoe brothers, authorities said. The three men were taken into custody June 9.
Holloway was in Aruba with about 100 classmates to celebrate their recent graduation.
Authorities have found no sign of her despite a massive search of the Caribbean island off Venezuela.
Judge Bob Wit ruled Friday that Paul Van Der Sloot cannot visit his son in jail, but that the boy's mother may do so. Wit's reasoning wasn't made public. Anita Van Der Sloot also visited Friday with her son.
No one has been charged in the case, and defense attorneys for Van Der Sloot and the Kalpoe brothers have said their clients maintain they are not guilty.
Prosecutors asked a judge Friday to hold the three men another eight days.
Under Aruban law, prosecutors can ask judges to approve three eight-day extensions, followed by a 60-day extension and then a 30-day one.
Suspects may be held up to 116 days -- and in rare cases even longer -- before formal charges are filed, said Mariaine Croes, a spokeswoman for the prosecutor.
On Wednesday, authorities searched Van Der Sloot's home, seizing two cars and removing bagfuls of evidence. (Full story)
Two days earlier, they released two security guards who were arrested in connection with Holloway's disappearance.
The guards, Abraham Jones, 28, and Mickey John, 30, were arrested June 5 but weren't charged.
After his release, John said Deepak Kalpoe confided to him while they were in jail together that he had lied to police. (CNN Access)
CNN's Rich Phillips contributed to this report.

Home Page

CNN.com gives you the latest stories and video from the around the world, with in-depth coverage of U.S. news, politics, entertainment, health, crime, tech and more.

Home Page

CNN.com gives you the latest stories and video from the around the world, with in-depth coverage of U.S. news, politics, entertainment, health, crime, tech and more.