Breast cancer treatment better but still brutal
By Karen Denice
CNN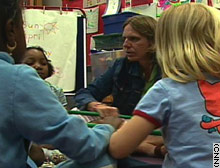 Kathy Hudson was teaching her class of 4-year olds when she learned her mammogram indicated cancer.
ATLANTA, Georgia (CNN) -- Kathy Hudson, 43, received the call in her classroom surrounded by 20 rowdy 4-year olds.
It was her doctor. He said a routine mammogram showed what looked like "a spot of cancer."
"I was shaking," she said. "I didn't even know how to answer him. "I just put my phone up and took a deep breath and said 'you know, I have to get through these next minutes with the kids. Don't fall apart.' "
Hudson is one of more than 200,000 women in the United States that the American Cancer Society says will be diagnosed with breast cancer this year. New, targeted treatments and better forms of diagnosis have led to a decline in breast cancer deaths since 1990.
Breast cancer remains by far the most commonly diagnosed cancer in women, well ahead of lung cancer -- which will be found in 79,000 women this year -- according to the American Cancer Society.
However, lung cancer is the deadliest for women, the five-year survival rate for women with lung cancer is only 14 percent, according to the non-profit National Center for Policy Analysis.
Hudson's ordeal began when she went in for a mammogram she'd been "too busy" to get for three years. A suspicious looking spot was found, and after a lumpectomy she was diagnosed with breast cancer.
While treatments have improved, they can still be brutal -- beginning with some type of surgery followed by radiation, chemotherapy, hormone therapy or a combination of those.
For Hudson, it meant radiation and incorporating that treatment into her busy life with her husband and three daughters.
"We really had to become comfortable with the word 'cancer' and all of the terminology that came with it," she said.
For Hudson's husband, Jerry, the diagnosis meant doing "what she needed me to do to help raise our kids and bring them up," he said.
Jerry Hudson said he felt helpless: "How am I going to deal with this? How do I support her, because I don't really understand what she is going through?"
Kathy Hudson said keeping a routine has helped. "It keeps your mind off the problem. It's always there, you know: 'I have cancer. I am a cancer patient.' "
But the aches, pains, sleeplessness and fatigue that treatments cause aren't easy to forget.
According to experts at the non-profit, educational Web site breastcancer.org: "Your body is in a war against cancer. It needs all its resources to fight the disease, so it shuts down your energy for other activities that would take away your strength from the battle. Fatigue is the result."
Possible side-effects of cancer treatments are hair loss, nausea, and cognitive problems like a spotty memory or trouble finding the right words.
Doctors say women often don't ask their doctors for help with such problems, thinking they must endure these miseries. In fact, many can be treated.
Hudson gets her radiation treatment during her students' nap breaks. She said being with them is its own medicine.
"They sure do love you a lot and they make you laugh, so even when you are feeling rotten being in the classroom isn't really a bad place to be," she said.
"You expend a lot of energy with them, but you get so much in return it makes things easier at times."
Her fighting spirit helps, too.
"It's like this war you fought, and you are going to win. If you look at it that way, you are going to win," she said.

Home Page

CNN.com gives you the latest stories and video from the around the world, with in-depth coverage of U.S. news, politics, entertainment, health, crime, tech and more.

Home Page

CNN.com gives you the latest stories and video from the around the world, with in-depth coverage of U.S. news, politics, entertainment, health, crime, tech and more.