Gupta: NASCAR ride 'more than a little terrifying'
Dr. Sanjay Gupta describes life behind the wheel
Programming Note: Dr. Sanjay Gupta gets behind the wheel to examine safety and athletic performance in NASCAR racing, "NASCAR: Driven to Extremes," Thursday, November 24, 11 p.m. ET.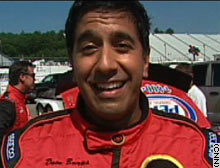 In "NASCAR: Driven to Extremes," Dr. Sanjay Gupta looks at the medical aspects of the sport.
(CNN) -- Driving in NASCAR is a lot more than hitting the gas and turning left, as I learned working on "NASCAR: Driven to Extremes."
NASCAR drivers compete in physically challenging conditions. The temperature inside the cars can be more than 100 degrees and humid. Scott Sutherland, a racing consultant, likened it to sitting in a sauna for three hours with a roll of nickels in each hand.
Not only is it hot, but it is stressful. NASCAR drivers race at up to 200 miles per hour, nose-to-tail with the competition, sometimes three across on the racetrack. There is very little margin for error.
As part of the special, I was lucky enough to experience the speed of NASCAR, or close to it. Wally Dallenbach, a former NASCAR driver who now does commentary for TNT and NBC, offered me a chance to ride shotgun on the oval track at New Hampshire International Speedway. The ride was thrilling and, as we sped down the straightaway inches from the wall, more than a little terrifying.
I got my chance behind the wheel a couple of weeks later at Homestead-Miami Speedway with the Richard Petty Driving Experience. After attending a safety class, I climbed into the stock car built to NASCAR specifications. The temperature outside was in the 90s. Inside the car was sweltering.
I was wearing a vest called a LifeShirt, which measured my core body temperature and other vital signs. Before I'd driven out of pit road, my body was measuring a temperature of 101 degrees, a fever. I forgot about the heat once I stepped on the gas. There is something both primitive and exhilarating about the roar of an 850-horsepower engine.
In the Richard Petty Driving Experience, you follow an instructor around the track as he takes the fastest line around the oval. My top speed for a lap was 139 mph. Another 50 mph, and I'd be ready for NASCAR.
Reporting "NASCAR: Driven to Extremes," I was fascinated by the personality of the successful drivers, who need to combine hours of focus and split-second timing, hours of patience and moments of aggression.
In the special, we profile NASCAR veteran Rusty Wallace and relative newcomer Carl Edwards, a rising star. Off the track, they are so outgoing and personable it's difficult to imagine them as hard-nosed competitors.
I was also surprised to learn racing has become like Little League, with boys and girls starting at 6 or 7 and moving up through the ranks as they get older, all the while dreaming of becoming the next Rusty Wallace, Carl Edwards or Dale Earnhardt Jr.
At a junior-sized oval outside Lowe's International Speedway, I watched youngsters participate in a clinic with NASCAR driver Reed Sorenson. The Nextel Cup wannabes did a couple of laps in small Bandolero cars and then -- wide-eyed -- received pointers from Sorenson. One couple had moved from Rhode Island to North Carolina pursue their 7-year-old's racing dreams.
A driver who started young and is now considered one of the top prospects in stock car racing is 15-year-old Joey Logano. Joey's father, Tom Logano, told me how Joey didn't do well in T-ball or basketball but somehow seemed like a natural behind the wheel when he got a go-kart at age 6.
He has driven in hundreds of races since and has succeeded at every level, suggesting nature and nurture play a role in becoming a successful driver.
In the end, I was left with a healthy respect for the physical and mental skills of NASCAR drivers, and a small understanding of what attracted them to the sport in the first place.

Home Page

CNN.com gives you the latest stories and video from the around the world, with in-depth coverage of U.S. news, politics, entertainment, health, crime, tech and more.

Home Page

CNN.com gives you the latest stories and video from the around the world, with in-depth coverage of U.S. news, politics, entertainment, health, crime, tech and more.