Ready for a Mini SUV?
Expect new models to be added to the line-up, but the character will remain, the company says.
October 7, 2005; Posted: 5:08 p.m. EDT (2108 GMT)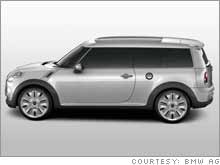 Mini Concept Frankfurt
NEW YORK (CNN/Money) - The Mini Cooper family is about to grow.
The new lineup could include a station wagon or an off-roader. Maybe a two-seater. Whatever form it takes, additions will be small -- you can count on that.
Mini's current model, the Cooper, is already set for a redesign next year. Don't expect major changes, but one reason for the redesign is to give the car more flexible engineering that could be easily adapted to different body styles.
The Cooper, which is available in hard-top and convertible forms and with basic and high-performance set-ups, has been enormously popular.
BMW, Mini's parent company, originally expected to sell 20,000 Mini Coopers a year in the United States, according to a recent story in Automotive News, an industry newspaper. Last year, 36,000 were sold here. The 100,000th Mini was sold in February, two years ahead of schedule.
In Europe, the company also offers the Mini One, a less expensive and less powerful sibling.
The current Mini Cooper is modeled after the Austin Mini Cooper and Morris Mini Cooper, in its later years simply called the Mini Cooper, produced from the early 1960s until 2000. BMW purchased Mini, along with several sister brands, in 1994.
Unveiled in 2000 with production starting in the summer of 2001, the new Mini is actually considerably larger than the original. But it carries the same unique aura of itty-bitty-ness and the same "go-kart-like handling," as the company calls it, that were hallmarks of the original.
While the new Mini has been very successful, no-one ever said the Cooper had to be the only vehicle Mini made. There may be customers who want something a little roomier. Or something that could stand a little light-duty off-roading. Or something you could haul stuff with.
A likely next step is a longer Mini. The Mini Concept Frankfurt shown at this year's Frankfurt Motor Show, was based on a 1970s version sold as the Clubman and the Traveller. It's sort of a station wagon Mini. It's still got just two doors, but it's got more space in back for luggage and for rear-seat passengers.
"The Mini, in the classic sense, always had a Traveller or a Clubman version," said Rich Steinberg, manager of product strategy for Mini.
The Concept Frankfurt has some styling cues that, company executives said, will appear on the next version of the Mini Cooper. The Concept Frankfurt is also a reminder that the original makers of Minis, had more tricks up their sleeve than just one little car.
Back in those days, the company also made something called the Moke, a vehicle that resembles the current Jeep Wrangler. The Moke wasn't designed for serious rock crawling, though. It was designed more for casual beach-combing.
A Moke comeback is possible, too, said Steinberg. He emphasized, though, that there are no firm plans for the expected product expansion.
The ultimate idea, he said, would be to "have the Mini spot in any segment."
The important thing, he said, would be to stay small. A Mini pick-up, for example, would have to be the smallest pick-up out there.
Two more doors? Maybe. Two fewer seats? Could be. But, whatever you get, it'll still be Mini, he said.
For a closer look at the Mini Cooper and the Mini Concept Frankfurt, see our gallery.
Have you ever been scared of investing your money in the market? Did you recently conquer that fear? If so, Money magazine would like to talk to you for an upcoming feature. E-mail Cybele Weisser with your story at cweisser@moneymail.com.