New cars unveiled at Frankfurt show
Jeep unveils two concepts that will likely see production. VW shows new convertible, Audi shows SUV.
September 12, 2005; Posted: 2:47 p.m. EDT (1847 GMT)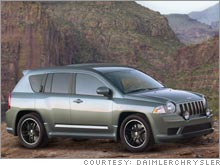 Jeep Compass concept
NEW YORK (CNN/Money) - Jeep unveiled two concept vehicles at the Frankfurt Motor Show in Germany today that, a company executive said, hint at a worldwide portfolio expansion for the off-road brand.
Other car companies, including Volkswagen, Audi, Jaguar and Mercedes-Benz, also unveiled all-new or redesigned models destined for sale in the United States.
For a look at several cars that will be coming to the U.S., as well as the two Jeep concepts, see our regularly updated gallery.
While both Jeep concept vehicles are relatively compact, with roughly 104-inch wheelbases, they offer distinct personalities. The Jeep Patriot has the tough, off-road appearance for which Jeep is known. The Jeep Compass concept has a softer, more wagon-like look.
The company boasts of the high fuel-efficiency of both vehicles, although, since they are in concept form, no fuel mileage figures are available yet.
"We've always planned on gasoline being over $65 a barrel," joked Jeff Bell, DaimlerChrysler's vice president in charge of Jeep and Chrysler, in a telephone interview prior to the unveiling.
Although the concepts are similar in size, the Patriot has more traditional off-road styling cues with sharp angles and straight edges as well as a higher ride height for greater ground clearance.
"Simple, geometric forms and planar surfaces define Jeep Patriot's timeless, purpose-built design," said Trevor Creed, lead designer for DaimlerChrysler's Chrysler Group, of which Jeep is a part.
"Patriot's face features Jeep's signature seven-slot grille, a robust bumper, round headlamps, raised, free-standing fog lamps and a visible skid plate. All of this gives Jeep Patriot its robust, strong, capable off-road image," Creed said.
The Patriot is reminiscent of the old Jeep Cherokee.
The Compass concept was inspired by the Jeepster, a vehicle the company produced in the late 1960s and early 1970s. The low-slung Jeepster was also intended primarily for on-road or mild off-road use.
The company expects to begin selling vehicles based on these concepts next year, said Jeff Bell, vice-president in charge of marketing for Chrysler Group.
The vehicles fall roughly on either side of the current Jeep Liberty in terms of off-road readiness. The Patriot is aimed at more masculine buyers interested in genuine rock-crawling prowess while the Compass is intended for those who might drive occasionally in snow or on a well-groomed beach.
Jeep, now a division of DaimlerChrysler's Chrysler Group, has been looking at the brand's own past as it begins to move beyond a current stable of just three vehicles, said Bell. Right now, Jeep dealers sell the Wrangler, the small Liberty SUV,and mid-sized Grand Cherokee SUV.
The Jeep Commander, a large three-row SUV, is just entering dealerships now. Reminiscent of the large Grand Wagoneer that ended production with the 1991 model year, the Commander will be entering the market just as a long run of popularity for three-row SUVs appears to be ending in the face of rising gas prices.
Jeep will be expanding its line-up even more in the relatively near future, Bell said. Something we might see is a Jeep pick-up modeled on the Gladiator concept from the 2005 Detroit Auto Show.
Other cars at Frankfurt
Audi unveiled its new three-row SUV, the Q7. Based on the same engineering platform as the Volkswagen Touareg and Porsche Cayenne SUVs, it was displayed along with a hybrid concept version.
VW also showed a four-seat hard-top convertible called the Eos. The Eos has a five-section sliding roof and is expected to be priced between the current Golf and Passat.
Jaguar showed its redesigned XK sports car and Bentley unveiled a new convertible called the Azure.
Cars from the Frankfurt Motor Show