Survey reveals cars owners love best
J.D. Powers survey ranks cars by overall owner satisfaction. Mustang, Corvette, Mini top lists.
September 21, 2005; Posted: 1:44 p.m. EDT (1744 GMT)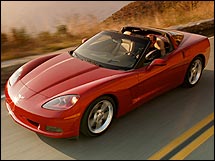 The Chevrolet Corvette ranked as the top "Premium Sports Car" in the J.D. Power APEAL study.
NEW YORK (CNN/Money) - Kia, sister-brand to Korea-based Hyundai, topped two categories in the latest J.D. Power and Associates APEAL survey.
The Honda Ridgeline was the most-liked midsized pickup and the Ford Mustang was the most-liked sporty car in the survey, which asked owners of brand-new cars to rate eight different aspects of their vehicle's appearance, design and performance.
The Kia Amanti was the top-ranked "Premium midsize car" in the survey and the Kia Sportage was the top-ranked "Entry SUV." (The discontinued Pontiac Aztek placed third, after the Nissan Xterra, in the "Entry SUV" category.)
"As more and more new designs hit the market, manufacturers are finding it increasingly difficult to make their new models stand out," said Chance Parker, executive director of product and research analysis at J.D. Power.
"While vehicle styling is still vital in setting a model apart from the pack, consumers are increasingly attracted to vehicles that offer innovative storage options and other features that make the driving experience more comfortable and convenient," he said.
J.D. Power's Automotive Performance Execution and Layout study was based on surveys of 115,000 new vehicle owners during the first 90 days of ownership. They were asked about their satisfaction with aspects of their vehicles including the engine and transmission, ride and handling, comfort and convenience and styling.
There were many all-new or redesigned models topping various category rankings in the survey, including the Pontiac G6 as top "entry midsize car," the Chevrolet Corvette as top "premium sports car" and the Ford Mustang as top "sporty car."
While it scored a top rating in two individual product categories, Kia ranked below average as a brand overall with a score of 845 out of a possible 1,000. The top auto brand overall was Porsche, with a score of 908. Land Rover was second with 906, Lexus third with 905 and Jaguar fourth with 902.
General Motors' Hummer and Cadillac divisions were the two highest placing U.S.-based brands with scores of 897 and 896 respectively.
The lowest-scoring brand overall was GM's Saturn with a score of 827. Suzuki and Subaru were second and third worst, with scores of 828 and 830 respectively. DaimlerChrysler's Jeep brand was fourth worst, with a score of 833.
Top vehicles by category
Compact car: MINI Cooper
Entry midsize car: Pontiac G6
Premium midsize car: Kia Amanti
Full-size car: Toyota Avalon
Entry Luxury car: Lexus IS300/IS300 SportCross/Mercedes-Benz C-class
Mid luxury car: Lexus GS300/GS430 (2006)
Premium luxury car: Lexus LS430
Sporty car: Ford Mustang
Premium sports car: Chevrolet Corvette
Midsize pick-up: Honda Ridgeline (2006)
Light-duty full-size pick-up: Cadillac Escalade EXT
Heavy-duty full-size pick-up: GMC Sierra HD
Entry SUV: Kia Sportage
Mid-size SUV: Nissan Murano
Full-size SUV: Nissan Armada
Entry luxury SUV: Lexus RX400h (2006)
Premium luxury SUV: Land Rover Range Rover
Midsize van: Honda Odyssey
Full-size van: Chevrolet Express