Family sedans ace crash test
Eight family and luxury vehicles earn top rating in recent tests conducted by auto safety group.
June 21, 2005; Posted: 11:47 a.m. EDT (1547 GMT)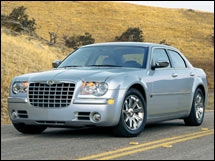 2005 Chrysler 300
NEW YORK (CNN/Money) - Eight large cars scored top ratings in frontal crash tests recently conducted by the Insurance Institute for Highway Safety.
The Buick LaCrosse, Chrysler 300, Ford Five Hundred, Kia Amanti and Toyota Avalon all earned a "Good" rating in the large family car category, making it the first time every model in that group earned that rating in tests by the Insurance Institute for Highway Safety's test.
Among other large luxury vehicles that made the grade were the Acura RL, Cadillac STS and Lexus GS.
Except for the Amanti, all of the cars also were named "best pick" for frontal crash protection, a designation reserved for the best performers in the "good" category.
A top rating means if the crash occurred in real life, a driver wearing a seatbelt would be able to walk away with minor injuries.
In the tests, one side of the vehicle's front end hits a deformable barrier at 40 mph. In similar tests conducted the federal government, the full front end of the car strikes the barrier, providing a larger area to absorb the impact..
Large cars haven't always performed well in the Institute's front crash tests, but the safety group said the latest results show that designs have improved.
For instance, the 2005 model of the Chrysler 300 is one of the top performers in the large car category whereas the 1999 model-year version, the 300M, was rated "marginal," just one level above the worst rating.
"It's now rare for a vehicle to earn a rating of anything less than good in the frontal offset crash test," said Adrian Lund, the organization's chief operating officer.
More:
---
How to understand IIHS and U.S. government crash test results
Cars mentioned in this story: