Hyundai customers say 'no' to Stern?
Report: Automaker's customers don't want Sirius because they don't want to listen to the shock jock.
May 13, 2005; Posted: 2:32 p.m. EDT (1832 GMT)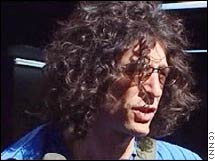 Hyundai customers say no to Howard Stern... and no to Sirius.

NEW YORK (CNN/Money) - A surprising number of Hyundai customers said they didn't want Sirius Satellite Radio installed in their vehicles because they objected to Howard Stern, according to an auto news Web site.
The so-called "shock jock" will broadcast on Sirius (up $0.08 to $5.33, Research) Monday through Friday from 6 a.m. to 10 a.m. beginning in January 2006, said Inside Line, an online news source that is part of Edmunds.com. Edmunds.com is a partner in CNN.com's automotive news and information channels.
Hyundai recently surveyed 300 to 400 customers as it was deciding whether to choose XM (down $0.10 to $28.14, Research) or Sirius Satellite Radio in as an option for its vehicles. Hyundai ultimately decided to go with XM.
The automaker will roll out a fall program that offers 90 days of free satellite radio programming with its new models, starting with the Santa Fe SUV, and the Sonata and Azera sedans, according to Edmunds.
John Krafcik, Hyundai vice president of product development and strategic planning, told Inside Line that executives were stunned by the number of "unprompted write-ins" on the survey that said customers were "not comfortable with programming from Stern."
Other automakers, like DaimlerChrysler (up $0.67 to $40.08, Research), still install the Sirius system.
Cars mentioned in this story:
Edmunds: 2005 New Car Buying Guide